04.04.2020 - We are still here for you. Standard delivery currently takes about about 5 to 7 working days. Mohr
molliolli Cheetah Pattern Coat
molliolli Cheetah Pattern Coat
2019/2020 winter favourite: The cheetah pattern coat from the Korean brand with the best fake fur – molliolli ECO-FUR.
Even though animal prints have already become a fashion classic – the fake fur trend means they are back on the fashion radar. This fake fur coat with stylish cheetah pattern is bang on-trend, and one which you would pay much more for from the big designers. The subtle green stitching gives the design an even more fashionable look. The coat comes from the new brand molliolli from Korea. In L.A. and NYC, it is already being seen in many shops and is being worn by the rich & famous. In this country, it is still an insider's tip. In the 1970s, Korean Brandon Seo bought the French company Tissavel, a leading manufacturer of the best fake fur. This has remained unchanged, so many designers still source their raw materials from there. In 2017 he founded his own brand "molliolli", which stands for extravagant and bold fake fur designs. Coat with wide revere collar, two slash pockets and hook fastening.

Tailored fit. Length in size 12: 104cm (40.9″). Colour: Brown/cream/green. 85% acrylic, 15% polyester. Lining: 100% polyester. Machine washable.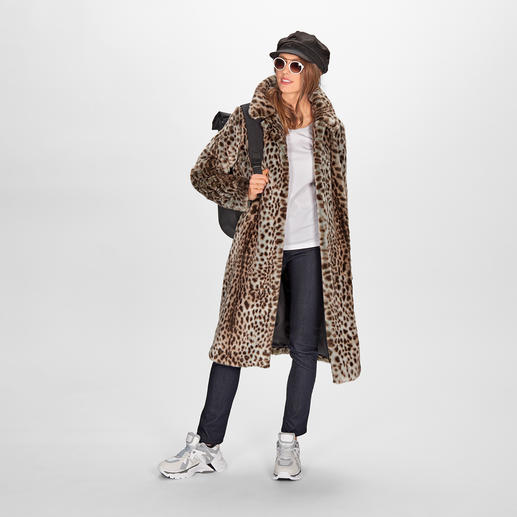 Be the first to review this product