Ibiza Dress
The genuine Ibiza dress.
Ibiza Dress
The genuine Ibiza dress.
The genuine Ibiza dress.
Comfortable and feminine. Romantic and sexy. The original from Spain.
In the late 1960s, an attractive beauty was awoken with a kiss – Ibiza, the snow-white island in the Balearics. Hippies from all over the world were the first to discover this island paradise, followed by artists, celebrities and those in the fashion business – a mix that still gives the island its characteristic aura and has left its mark on fashion in Ibiza. The Ibiza style is often copied – but this original gypsy dress comes direct from Spain: Authentic, wonderfully soft, simple, versatile and feminine.
Alluring and seductive.
The bodice is made from highly elastic mix of cotton and Lycra® and thus softly clings to feminine curves and gently supports the bust and midriff area. The gathering at the side and the deep V-neck are very feminine. Measuring 16½ft (5m) around the hem, the intricately structured panelled skirt in slightly firmer fabric skims the hips before flaring out cleverly – ideal for dancing or strolling. Take your Ibiza dress with you when you travel. You will look perfectly and fashionably dressed – not just on the world's beaches, but everywhere you go.

Close-fitting design. Flattering, comfortable 3⁄4-length sleeves. Skirt length, measured from waist: 36″ (91cm) in size 12. 96% cotton, 4% elastane. Machine washable.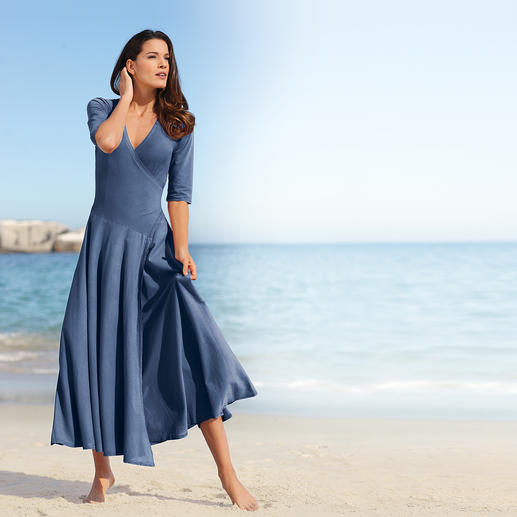 Be the first to review this product