Goodbye but not Farewell ...
As a result of the Brexit, Pro-Idee is temporarily closing its UK online shop (www.proidee.co.uk) until further notice. We apologise for the inconvenience. Everything you might want to know about the situation is to be found in the FAQs below. It will surely help you navigate through this change and answer the most frequent questions you might ask yourself regarding ordering, shipping, delivering and many other areas which are impacted by the closing of our online shop. As we remain committed to curating a unique selection of high quality products, we invite you to continue shopping in our German, French, Dutch, Austrian or Swiss online shop if you wish to have your order delivered to an address outside the UK. We thank you for the continuous support throughout the years and we hope to be able to reopen our UK online shop in the near future.
Ibiza Dress
The genuine Ibiza dress.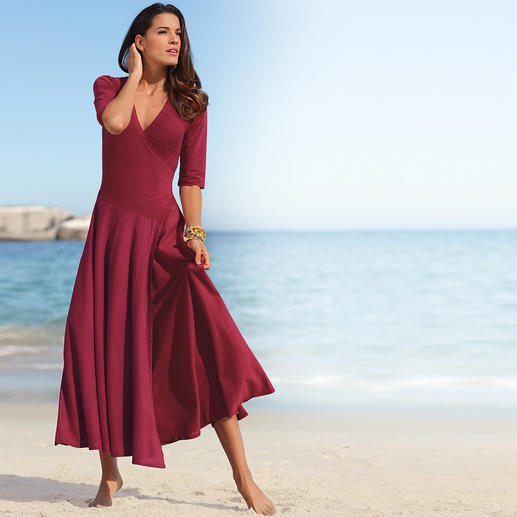 Brick red
Denim
Denim
Khaki
Khaki
Ibiza Dress
The genuine Ibiza dress.
The genuine Ibiza dress.
Comfortable and feminine. Romantic and sexy. The original from Spain.
In the late 1960s, an attractive beauty was awoken with a kiss – Ibiza, the snow-white island in the Balearics. Hippies from all over the world were the first to discover this island paradise, followed by artists, celebrities and those in the fashion business – a mix that still gives the island its characteristic aura and has left its mark on fashion in Ibiza. The Ibiza style is often copied – but this original gypsy dress comes direct from Spain: Authentic, wonderfully soft, simple, versatile and feminine.
Alluring and seductive.
The bodice is made from highly elastic mix of cotton and Lycra® and thus softly clings to feminine curves and gently supports the bust and midriff area. The gathering at the side and the deep V-neck are very feminine. Measuring 16½ft (5m) around the hem, the intricately structured panelled skirt in slightly firmer fabric skims the hips before flaring out cleverly – ideal for dancing or strolling. Take your Ibiza dress with you when you travel. You will look perfectly and fashionably dressed – not just on the world's beaches, but everywhere you go.

Close-fitting design. Flattering, comfortable 3⁄4-length sleeves. Skirt length, measured from waist: 36″ (91cm) in size 12. 96% cotton, 4% elastane. Machine washable.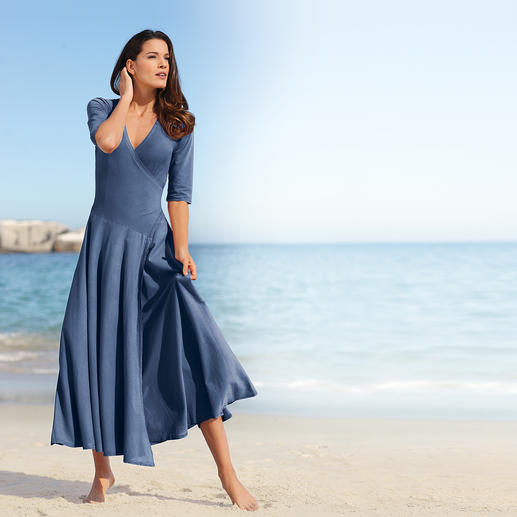 Be the first to review this product