Fuzzi Easy To Pack Dress Butterfly
Fuzzi Easy To Pack Dress Butterfly
A designer dress for your handbag. And for numerous occasion.
Made of delicate tulle jersey. Weighs only 180g (6.3 oz). By Fuzzi, Italy.
A dress like this is hard to find. It's not only incredibly feminine and elegant, but also wonderfully comfortable. You can wear it with toe post sandals for a day-to-day look, and with glamorous sandals for an evening outfit. Low-crease and so it's ideal to pack. As light as a feather. You can also fold it so small that it will fit into any handbag.
Developed with Jean Paul Gaultier.
During the 80s, Anna Maria Fuzzi and the French couturier designed the tour wardrobe for a world-famous pop icon. Since then, the delicate but highly elastic tulle jersey has become a bestseller in the Fuzzi knitwear collections.
Wash, dry, wear – and feel good.
The cut is perfectly coordinated with the material: Semi-transparent sleeves, opaque double-­layered bodice and waist gathers for a feminine hourglass silhouette. The butterfly pattern is an exclusive design from their own collection and you won't find it any­where else.

Close fitted. Length in size 10: 106cm (60.2″). Colour: Black/orange/blue. 100% polyamide. Underdress in 86% polyester, 14% elastane. Handwash.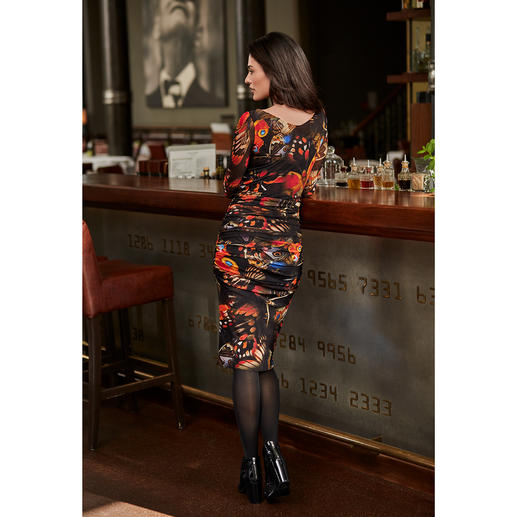 These on-trend pieces go well with 'Fuzzi Easy To Pack Dress Butterfly':
Be the first to review this product