A complete neck massage tailored to your needs. Without the need for a power outlet or cable.
3 massage modes in one high-tech device. A treat after a stressful day, extensive workout, on a long-haul flight, ...
During a flight, after golf training, between meetings, ... Or at home on the sofa. Now you can relax with a neck massage whenever you want. Simply put the iNeck3 around your neck and activate it at the touch of a button. The integrated lithium-ion battery provides power for up to 150 minutes of massage time.
3 massage modes. At the touch of a button.
Like the fingers of a real masseur, two three-dimensionally vibrating heads rhythmically knead the muscles on both sides of the cervical spine. Thus, the blood circulation is stimulated and muscle tension is relieved. In addition, you can simply change the massage direction (from inside to outside or vice versa) or select the rotation mode. Hold down the mode button to save the spot currently being massaged, so next time all you have to do is press the button again to massage the desired spot.
With one touch, you can adjust the intensity to your needs.
To increase the contact pressure, simply pull on the strap on the front. Unlike often-used, flat massage pillows this pillow gives optimum support and relief to the head and neck.
Cool design. Winner of the Red Dot Design Award 2019.
By breo®, renowned specialist for portable high-tech massage devices. ABS plastic body. Measures 26.2 x 8.5 x 25.7cm (10.3" x 3.3" x 10.1") (W x H x D), weighs 1,030g (2.3 lbs). Charging time approx. 5 hours, charger and USB cable included. Incl. storage bag.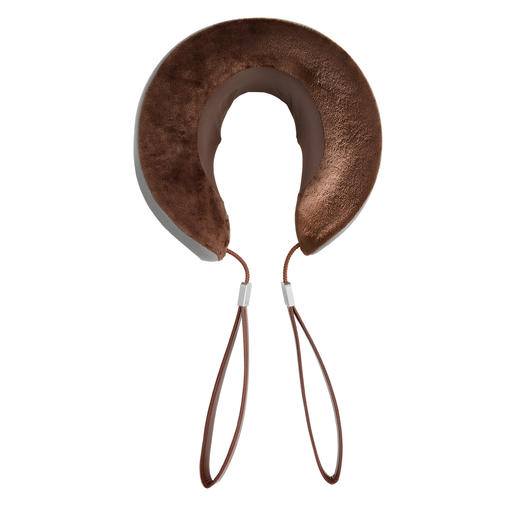 Be the first to review this product