Thousands of micro-fine crystals do  a thorough job.
The smooth result lasts longer.
Gentle exfoliation makes your skin silky smooth.
Thousands of micro-fine crystals do  a thorough job.
The smooth result lasts longer.
Gentle exfoliation makes your skin silky smooth.
A revolutionary depilatory system that makes hair removal as easy as taking off make-up. Plus, it doesn't hurt!
Swiss Depil simply rubs away unwanted body hair – quick, gentle and impeccably smooth, with no skin irritation.
Put an end to the eternal torture of waxing or plucking. No more ugly stubble after shaving. As a result of extensive research and dermatological testing, a clever, revolutionary depilatory system has been developed that won't irritate even the most sensitive of skins.
Thousands of micro-fine crystals do  a thorough job.
The secret of Swiss Depil lies in the soft, non-allergenic micro-abrasive pads which are kind to your skin and contain tiny silicon-carbide crystals embedded in polyurethane resin (non-toxic and complying with European Standards EN71/3).
Stick one of the self-adhesive micro-abrasive pads onto the soft, flexible depilatory glove.
The microscopically fine cutting edges of the minerals are set at opposing angles to one another. By alternately crossing the pad to the left and right, every hair will be gently removed. Ideal for sensitive areas. Comes with special pads for the facial area.
The smooth result lasts longer.
The gentle pressing action on the skin makes the tiny body hairs stand up, so that they can be removed at the root of the hair (epidermis). Plus, regular depilation weakens the hair, so that the smooth effect lasts longer and the tiny hairs grow back more slowly and are soft and stubble-free.
Gentle exfoliation makes your skin silky smooth.
The soft, exfoliating massage removes tough, dead skin cells at the same time. Your skin will be wonderfully soft, smooth and silky and ready to absorb your body lotion. For best results, use on dry skin (before applying lotion) and gently pull the skin taut in the area you are working on. Each pad can be used several times. Just give it a quick wipe with a damp cloth after use. When the pad begins to wear down, just replace it with a new one. Complete set includes glove, grey case and 10 self-adhesive micro-abrasive pads in each size: 10 x 7cm (4" x 2.7"), for arms, legs, armpits and bikini line. 7.5 x 5cm (2.8" x 2") – soft enough for use on upper lip and chin. This version exclusive to Pro-Idee. Result of the dermatological test: "Excellent". *

* dermatest®Medical Research Company, Germany, certificate dated
April 23, 2010.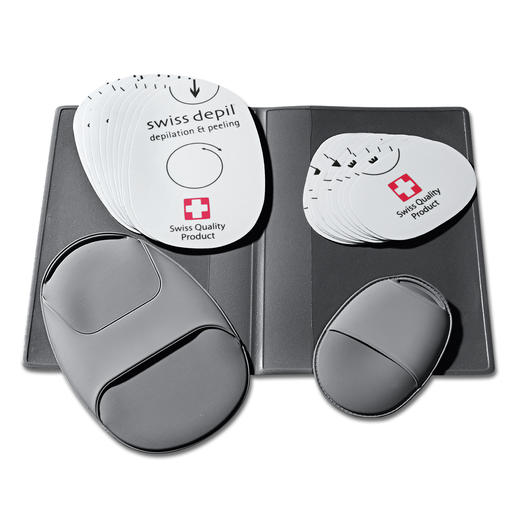 By Claudia A. on 10.09.2019
Hair removal made easy and comfortable
I don't shave (burns), wax (can't get it to work plus very painful, epilate (painful), or use chemicals (toxins) so I have been running around with hairy legs for years now. This product seemed just right for me if too good to be true. I was surprised to find that it works even better than it sounds, at least on my skin that is very oily. Contrary to the instructions I used it on hair that was at least 3 or 4cm long and it took it off within seconds. I find it harder to use on short stubbly hair but it still works very well. It feels like caressing my legs, which I actually enjoy. It makes my skin feel very smooth but on the downside it does take a lot of pads because it does such a great peeling job on the skin. I've never had smoother skin. Under the arms it does burn quite considerably for about a day and I don't like using it there. It takes the hair off but takes much longer than on the arms, legs or face. I haven't tried the bikini area so cannot give feedback on that. It is quite expensive as I go through a lot of body pads quite fast. The face pads last much longer for me.