07.04.2020 - We are still here for you. Standard delivery currently takes about about 5 to 7 working days. More
High Performance Spiral Scrunchie, Set of 6
High Performance Spiral Scrunchie, Set of 6
Protects the scalp, prevents hair breakage and split ends.
The better scrunchie: Holds tightly, does not slip, does not pull, leaves no pressure points and does not wear out.
Ingenious spiral shape with patented ring-in-ring technology.
Unlike simple spiral scrunchies, these have an internal silicone ring which prevents the spiral from wearing out due to constant stretching. Even after countless uses, your scrunchie is as reliable as it was on the first day. Even under extreme stress during workouts, jogging, dancing, etc.
Protects the scalp, prevents hair breakage and split ends.
No matter whether you have frizzy, curly, straight, thick or thin hair – the shape of the spiral scrunchie makes it grip automatically, without you having to tighten it too tight. Here, the pressure is distributed and the unpleasant pulling on individual hairs or tension on the scalp is eliminated, so avoiding possible headaches. Welded smoothly, without sharp-edged metal joints (the main cause of hair breakage in conventional braided scrunchies). Water-repellent, ideal for swimming.

Warning: Not suitable for children under the age of 3. Risk of suffocation from small parts that can be swallowed.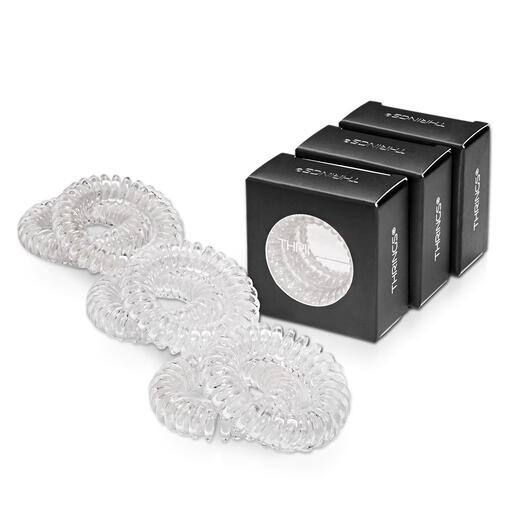 Be the first to review this product