Face Shaver and Eyebrow razor Roxy Pocket Shaver
Face Shaver and Eyebrow razor Roxy Pocket Shaver
Remove facial hair more thoroughly, more quickly, more gently - always and everywhere.
The ingenious Roxy Pocket Shaver: Hardly bigger than a lipstick.
This facial shaver from the USA operates with an innovative, circular vibrating shaving head. Instead of plucking annoying hairs on the upper lip, chin and cheeks, you can remove them softly and gently on the surface.
Without pain, cuts or redness.
Gone is the continual torture of waxing or plucking. And no waiting until the hairs have grown long enough. The 18 carat gold plated shaving head is suitable for any skin type.
Battery-operated and in the discrete lipstick design, it is ideal for your handbag.
Always right at hand. With cleaning brush and replacement shaving head. Splash-proof. Uses one AA battery (sold separately). Dimensions: 11.5 cm (4.5″) H, 2.5 cm (0.98″) diameter. Weighs approximately 100 g (3.5 oz). Plastic housing in cream-gold colours.


And now for the perfect eyebrows.
With this eyebrow razor in a discreet mascara design, you can trim and shape your eyebrows with special care and precision. All without painful plucking. Uses one AAA battery (sold separately). Measures 12.7cm (5″) H, 2.7cm (1.06″) in diameter. Weighs approx. 33g. (1.16 oz) plastic case in white/pink gold.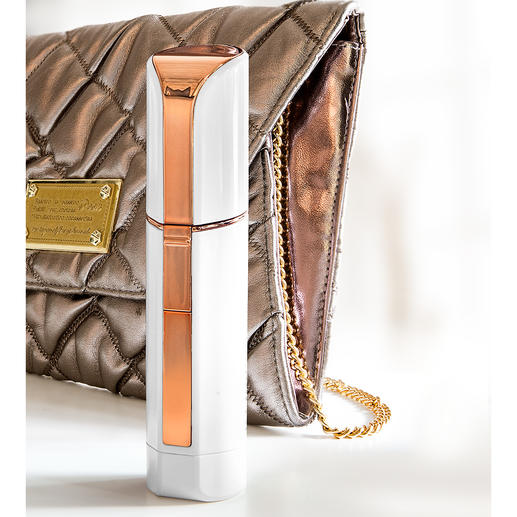 Be the first to review this product