Titan® Trolley X-Ray Pro
The latest generation of suitcase: Fingerprint sensor instead of combination lock.
The latest generation of suitcase: Fingerprint sensor instead of combination lock.
Best possible security against unauthorized opening. German design and workmanship.
With this suitcase you no longer have to remember number codes, and never have to look for its keys again. You can open this premium trolley using your fingerprint alone (up to 10 prints can be saved). The sensor of the electronic TSA fingerprint lock* is easily accessible as it's next to the suitcase handle. Just put your fingers on it and the zipped closures are released automatically. This way, no unauthorized person can open the suitcase.
100% senosan® polycarbonate: Extra robust and sturdy, yet lightweight. And scratch resistant.
Thanks to its high breaking strength and impact resistance, only a thin layer of the high-tech plastic is needed to create a highly robust hard shell with a low weight. The matt surface finish is very resistant to scratches. This will keep the suitcase beautiful for much longer.
Clear, straightforward design. Made entirely by hand in Germany.
From vacuum shaping the shells to sewing the interior and right up to installing the sensor locks: Careful manual work and select materials guarantee exceptional quality and durability.
4 manoeuvrable, quiet and smooth running 360° spinner wheels.
With telescopic handle. Organised interior: 2 large closed compartments – each with 1 zipped internal pocket. 1 zipped compartment for valuables, tension belt.
Cabin suitcase with practical USB charging port and easily accessible power bank compartment (power bank not included).
The large 102-litre suitcase measures 77 x 52 x 29cm (30.3" x 20.4" x 11.4") (H x W x D) and weighs approx. 3.8kg (8.4 lbs). Medium 87-litre suitcase: 72 x 50 x 28cm (28.3" x 22.8" x 11.0") (H x W x D), approx. 3.5kg (7.7 lbs). The 40-litre suitcase with 55 x 40 x 20 cm (21.7" x 15.7" x 7.9") (H x W x D) weighs approx. 2.6kg (5.7 lbs) and is approved as cabin luggage according to the IATA standard. Colour: Atomic steel.

*Conforms to the guidelines of the US security authorities: While conventional locks are broken open during inspections, the security personnel can open and lock a TSA lock with a special key.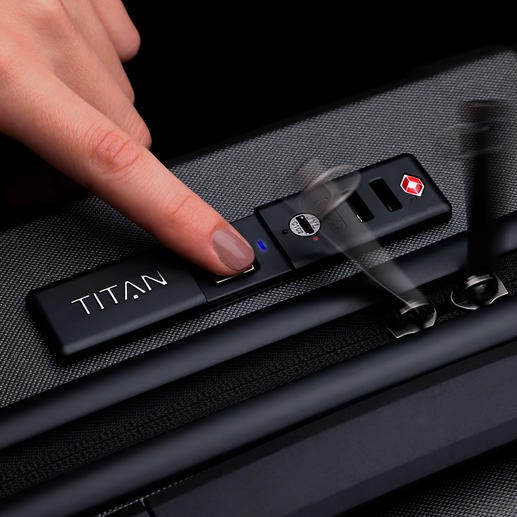 Be the first to review this product