Classic look, innovative material, fashionable design: This ultra-light handbag weighs only 380g (13.4 oz).
Made in Italy by cult label Save My Bag.
Just a few years ago, Valentina and Stefano Agazzi produced foamed rubber protective covers in Bergamo/Italy. These light, flexible and rainproof covers were used for luxurious designer bags. One day, they came up with the idea of making an elegant handbag from the neoprene-like high-tech material itself. Thus, the cult label with the descriptive name "Save My Bag" was born.
Two new trend designs: Camouflage pattern on graphic cube print and Leo look.
Meanwhile, customers all over the world love this lightweight (380g (13.4 oz)), sleek and versatile it-bag. Style tip: Swap the ribbon from one colour bag to another. This way the bag will quickly become the highlight of any outfit. With label badge and press stud fastening.

Measures 34 x 29 x 18cm (13.4" x 11.4" x 7.1") (W x H x D). Carrying handles approx. 50cm (19.7") long. Shell: 50% polyether, 40% polyamide, 10% elastane (Lycra®). Lining: 100% polyester. Hand wash only. Made in Italy.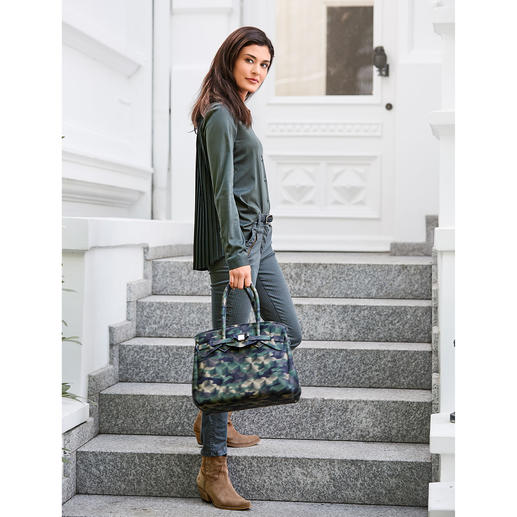 These on-trend pieces go well with 'Ultralight Bag':
Be the first to review this product