Stylish protection for your expensive sunglasses: The SunCover from the Munich rising star ANY DI.
Developing a brand to match her own lifestyle – the vision that Munich-based designer and professional tennis player Anne Dickhardt has turned into a reality. With her first collection in 2015, she succeeded in creating the perfect fusion of elegance, sportiness, business and leisure. Her fashionable yet timeless bags and accessories are well thought-out and suitable for everyday use. They are a combination of high-end fashion and everyday comfort – just like this SunCover.
Eye-catcher for your handbag: Whether in glamorous leopard skin look or casually elegant ethnic style.
Inside the case, your sunglasses will be well-protected and with the leather karabiner attached to your bag, always within easy reach. Attached to the outside of the bag, the SunCover is a real eye-catcher. Simply fold the temples around the leather mask to protect the glasses from scratches.

Shell: Leather, lining made of microfibre. For all shapes and sizes of glasses. Size 13.5 x 7 x 1cm (5.3" x 2.8" x 0.4"). Weight approx. 28g (0.1 oz). Leopard skin print: Black/gold/brown. Ethnic: Rose/black/gold.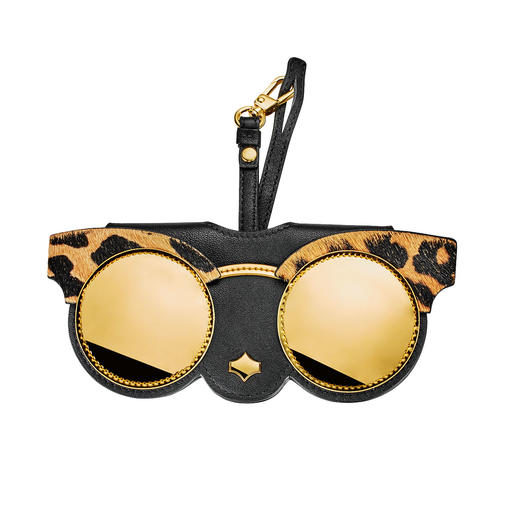 Be the first to review this product