On-trend belt bag as a chic signature piece.
It brand Pinko gives the trend bag a glam-rock red carpet look.
After the still on-going fashion hype of cross-body bags, belt bags are now all the rage too. But not those that we remember from the 90s which have the same reputation as "sandals worn with socks"! Significantly tweaked and no longer made of cheap nylon, they are as stylish as it bags made of fine leather, and are being worn by bloggers, influencers and celebrities. Plus, they no longer only come in the renowned banana shape. In short, they are the must-have fashion accessory and are even suitable for a red-carpet look – especially this one by Pinko.
Elaborately embellished like a piece of jewellery.
The bag is trimmed all-over with small, golden round studs and crescent stud reliefs, and has a silver-coloured link chain to make it really eye-catching. Use the link chain to quickly turn the bag into a cross-body bag or clutch. It goes with every look, from business-like, sporty-casual to a smart and sophisticated evening look. Removable, length-adjustable leather straps. The circular bird-closure is Pinko's signature feature and gives the bag its unmistakable Pinko look. Magnetic closure. Six card slots inside, three on each side.

6.5 x 11 x 5cm (2.6″ x 4.3″ x 2″) (L x W x D). Weight 360g (12.7 oz). Colour: Black/silver/gold. Shell: Leather. Textile lining.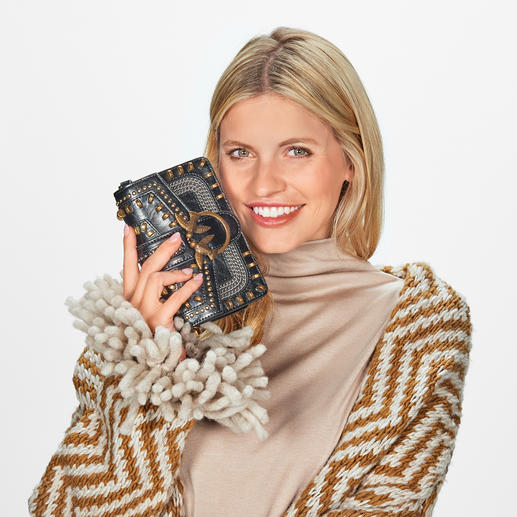 Be the first to review this product