Two trends in one: TWINSET gloves with practical touchscreen control.
In on-trend driving style and with fashionable python-skin look.
Whether with a coat or fashionably with a blazer – this season the elegant woman is wearing gloves again. But not just any pair, as driving gloves are found at the top of the trend lists. Back in the day, these sorts of gloves were just a typical accessory for enthusiastic owners of convertibles and vintage cars, but today they're a trendy must-have. Moreover, these gloves by TWINSET have another trendy feature: The python-skin look comes in two fashionable colour combinations: Yellow/black or anthracite/black.
Smartphone? No problem!
On the index finger, the typical TWINSET heart has been carefully embroidered using a conductive thread. This allows you to operate your smartphone as well as all other touchscreens without taking off your gloves.

Material: Leather. Press stud fastening on the back of the hand.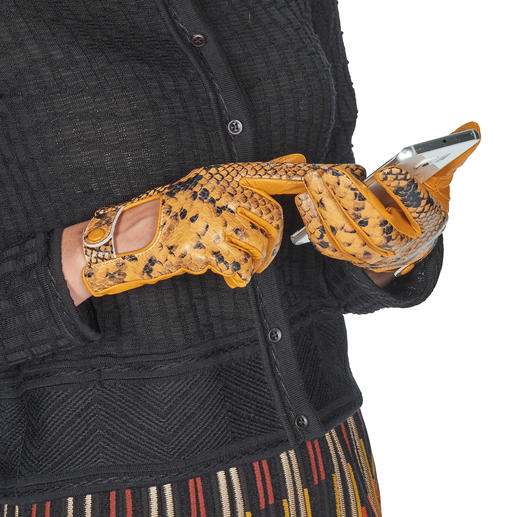 Be the first to review this product