True luxury cannot be copied.
Generous 35ʺ x 82.6ʺ (90 x 210cm) in size – yet only weighs 5¼ oz (160g).
True luxury cannot be copied.
Generous 35ʺ x 82.6ʺ (90 x 210cm) in size – yet only weighs 5¼ oz (160g).
The legendary ring shawl is one of the best classics in fashion history.
Handwoven pashmina: So delicate that you can pull this wrap through a ring.
Genuine pashmina shawls come from Tibet and are a centuries-old tradition. More than 15 years ago they appeared on the London fashion scene and today no wardrobe anywhere in Europe is complete without a genuine pure Cashmere shawl. But in pure pashmina they are getting harder and harder to find.
True luxury cannot be copied.
Many people have tried to copy the look of the pashmina shawl. It cannot be copied in pure cashmere, however, as such a fine shawl cannot be produced as cheaply. The fine fabric is extremely soft and warm as only the finest, pure cashmere (called pashmina, Persian for diamond fabric) can be. Anyone can feel the difference immediately, and an expert can tell from a distance.
Generous 35ʺ x 82.6ʺ (90 x 210cm) in size – yet only weighs 5.6 oz (160g).
Genuine pure cashmere is much lighter than other similar looking fabrics, which is why it's so versatile. It can be folded up to be compact and small yet tied in a variety of ways. You can wear it regally round your shoulders or wrap it around you as a fine shawl. Snuggle up with it to read, when you are outside on chilly summer evenings or on long flights. It will fit into even small handbags and you can unfold it whenever you want to feel its luxurious softness. Indispensable when travelling. You will receive your genuine pashmina shawl gift-wrapped in a lovely box of handmade Nepal paper.

Measures 35ʺ x 82.6ʺ (90 x 210cm) in size and weighs only 5¼ oz (160g). 100% cashmere. Hand wash. Made in Nepal. Exclusive to ­Fashion ­Classics.
Pashmina: the finest cashmere in the world.
It comes exclusively from the underbelly down of the Chyangra goat, which lives above 3,000m high in the mountain valleys of the Himalayas. The very delicate, extremely rare undercoat is combed very gently from the animal by hand, separated from any thick top hair, then woven. The result is sensational; this breezy fabric is probably lighter, warmer and softer than anything you have ever felt before.
Pashmina is very, very rare and expensive. It is often mixed with silk to reduce the price. A shawl measuring 35" x 78" (90 x 200cm) made of pure pashmina usually costs around £240. If not you have every reason to doubt whether it is genuine. Unfortunately, the Pashmina name is not protected, and so a cheap shawl might not even contain any pashmina, possibly not even any wool, but be made of plain yarn artificially softened. You will find out very soon, the shawl will pill, become threadbare and unsightly. By contrast, this shawl of pure genuine pashmina is timeless and beautiful for years, even if you wear it every day.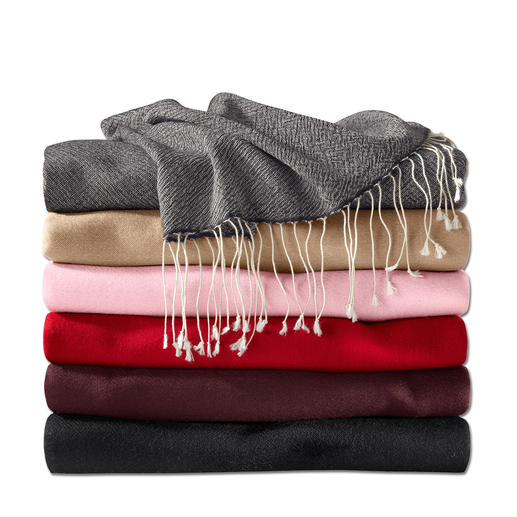 Be the first to review this product