Kero Design Alpaca-silk Stole
Kero Design Alpaca-silk Stole
Superbly soft and feather-light: Stole made of baby alpaca wool and silk.
A precious rarity with artistically hand-dyed colour gradient. By Kero Design, Peru.
With the feel of a soft stroke on the skin. Although almost as soft as cashmere, the rare luxury baby alpaca yarn is amazingly hard-wearing and resistant to abrasion and pilling. The silk content provides a refined sheen and enhances the brilliance of the colours.
Each stole is unique.
It is knitted from undyed yarn and then partially dipped by hand into five dye baths. This makes the soft colour gradient look a little different on each item. And depending on how you drape the fluffy stole, sometimes the grey tones will be predominant, and sometimes the khaki or petrol.

One size. Measures 176 x 78cm (69.3" x 30.7"). Colour: Grey/khaki/petrol. 80% alpaca, 20% silk. Dry clean only. Made in Peru.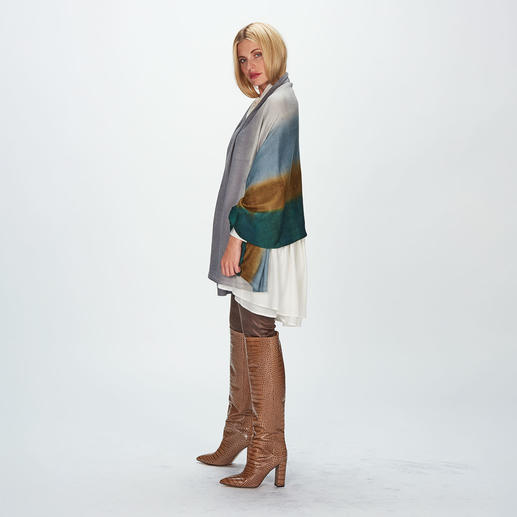 Be the first to review this product