Ancini "Aquarell" Dotted Scarf
Ancini "Aquarell" Dotted Scarf
Six exquisite aquarelle shades. Generous size. Durable material.
Stylish, easy to combine summer scarf – made in Italy.
An elaborate screen printing process produces brilliantly coloured aquarelle polka dots on a cream coloured background. The pastel colour spectrum ranges from vernal green and yellow to summery red and violet and autumnal blue and brown. With this subtle variety of colour, this scarf is the perfect finishing touch to plain-coloured outfits and spices up any plain wardrobe basic. The material, blended from soft fluid viscose and durable polyester, together with the generous length of 2m (6.6 ft), makes this scarf wonderfully soft, lightweight (110g (3.9 oz)) and not too warm. Moreover, it's very robust and crease resistant.
80 x 200cm (2.6 ft x 6.6 ft), 3cm (1.2") long fringes along the edges. 50% viscose, 50% polyester. Hand wash.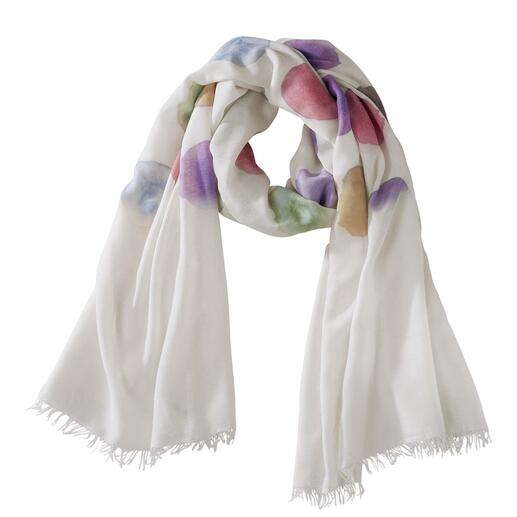 Be the first to review this product