04.04.2020 - We are still here for you. Standard delivery currently takes about about 5 to 7 working days. Mohr
Also ideal for your holiday suitcase.
Soft and flexible instead of stiff and bulky: The unbreakable straw hat made of raffia bast.
Hand crocheted. By Loevenich, handmade hats since 1960.
Unlike mass-produced straw hats, this one is not machine-woven, but is crocheted manually. As a result, the openings are larger and the air can circulate better. In addition, the material is exceptionally flexible.
Also ideal for your holiday suitcase.
Your hat always returns to its original shape and adapts perfectly to the shape of your head. The flexible raffia straw is cut from the leaves of the tropical raffia palm. Their leaves contain a natural wax that prevents brittleness and breakage. The colour is natural. A delicate band adorns the crown. Depending on your outfit, you can turn up the brim casually or leave it in the classic bell shape in the 1920s style.

10cm (3.9″) wide brim. Colour: Natural. Made of raffia straw.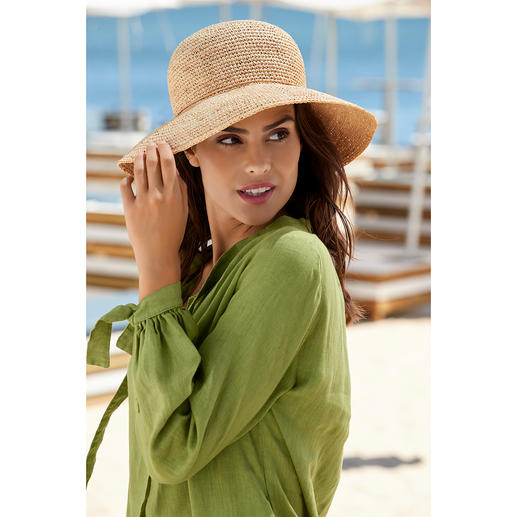 These on-trend pieces go well with 'Loevenich Raffia Hat':
Be the first to review this product