Award-winning design meets outstanding insulating performance.
The FLSK bottle with VICC® insulation technology: Keeps drinks cold for up to 24 hours and hot for up to 18 hours.
Thanks to a perfect combination of a stylish look and optimised functionality the FLSK won the German Design Award 2018 and is talked about in leading fashion, sports and lifestyle magazines. The unique insulation technology VICC® stands for Vacuum Insulated Copper Coating.
Double-walled, stainless steel vacuum with insulation-enhancing copper coating.
Drinks stay refreshingly cool for up to 24 hours. Carbonated drinks like mineral water, Coke®, soda, ... stay sparkling and fresh. Enjoy hot coffee, tea, cocoa, ... for up to 18 hours. In addition, the double-walled structure prevents condensation forming on the outside so your backpack, laptop and sports bag stay dry.
Almost indestructible. 100% sealed.
The robust stainless steel can even survive falls and knocks. Thanks to the perfectly fitting plug and rubber seal, the screw cap is absolutely leakproof. Fits in most bottle holders. Available in 2 sizes. The 0.5 l bottle measures 7 x 25cm (2.8″ x 9.8″) (diameter x H) and weights approx. 320g (11.3 oz). The 1 l bottle measures 8.5 x 33cm (3.3″ x 13″) (diameter x H) and weighs approx. 490g (17.3 oz).

The award-winning FLSK muki Snackpot is the perfect addition to the insulated bottle.
Yogurt and vegetable sticks, berries and chia puddings, crunchy salad and delicious dressing in two containers that close separately. You can now carry your snacks separately from each other and keep them at a perfect temperature. The VICC® insulation technology in the lower container keeps food cool or warm for up to 8 hours. The TriZone ThermoGuard insert between the two containers prevents temperature changes. Recipient of the Red Dot Design Award 2019 in the category Product Design, and the European Product Design Award Gold 2019 in the category Catering Products/Food Transport. Capacity: 250ml lid, 300ml container. 100% leak-proof. Measures 6.5-9.5 x 15cm (2.6"-3.7" x 5.9") (diameter x H). Weight 295g (10.4 oz).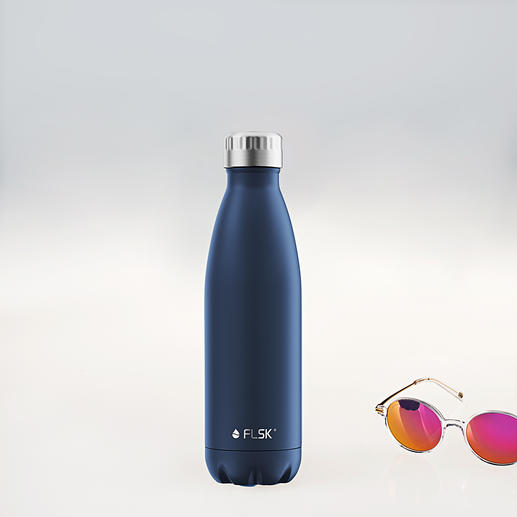 Be the first to review this product