Power bank, torch, SOS flashing light, hygiene and banknote tester and a flameless electronic lighter in one.
5 functions in one compact tool. Practical at home. Ideal for travel.
Instead of cumbersome individual tools, you now only need this ingenious multitool in your handbag, trouser pockets or work bag.

• 6,000mAh power bank
• LED torch
• SOS flashing light
• Hygiene and banknote tester
• Electronic lighter

With the integrated power bank, you will always have enough energy for up to 3 smartphone or 2 tablet charges.
The surprisingly bright LED torch with red flashing feature shines for approx. 18 hours in white continuous light mode or 16 hours in red warning light mode. Also ideal as emergency mobile lighting in the car and at home.
The 2W blacklight LED uncovers counterfeit money and hygiene issues. The longwave UV A-light (blacklight) makes invisible stains, traces of urine and other residues visible as well as security features on banknotes and documents.
The storm-proof electronic lighter operates with a heated coil (instead of with an open gas or petrol flame). With child protection and anti-soot technology. On flights, you simply pull the USB lighter module from the enclosure and stow it in your suitcase. The basic tool can be taken with you in the cabin.
Size 10.6 x 3.9 x 2cm (4.2" x 1.5" x 2") (L x W x H), weight 222g (7.8 oz). With charge indicator (3 blue LEDs), overload, deep discharge, surge, overheat and short-circuit protection.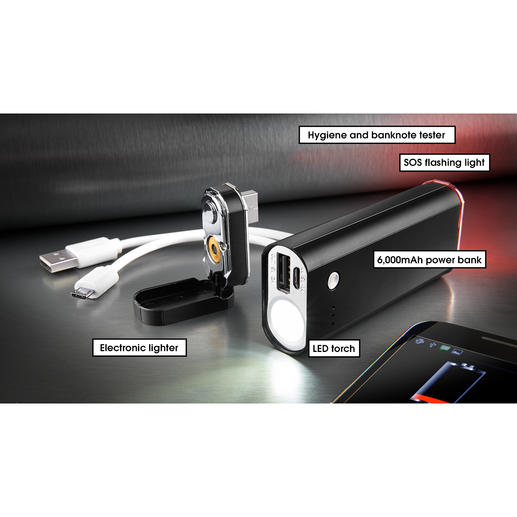 Be the first to review this product