Porsche Tractor Set Advent calendar
Porsche Tractor Set Advent calendar
The highlight among Advent calendars: the old-timer Porsche tractor dated 1962. To build yourself in 24 steps.
The legendary Master 419 as a 1:43 scale building set. Officially licensed.
If you think of Porsche, you'll usually imagine a grandiose sports car. The tractors from Porsche's Friedrichshafen tractor factory however are much less well known. Of the four model series of these diesel tractors, the vehicles of the Master Series were the largest models with the highest performance. Only 1175 Master 491s were built by the end of production in July 1963. It cost about 15,290 Deutschmarks (approx. £7145) with the basic equipment. Today as an old-timer, it's a fan favourite of high collection value and an extremely popular photographic subject at commercial vehicle fairs.
An impressive beauty with the typical signature of Ferdinand Porsche.
Until the 50's, tractors were utility vehicles, with no real aesthetic pretensions. It was the tractors from Porsche that lent new elegance to the sober world of motorized workhorses. With its round, drawn-forward bonnet, the red paint job and the decorative chrome trim, the so-called Red Noses were eye-catchers to be marvelled at. The Master tractors unified the most modern technology and a high degree of elegance for the first time, to the delight of owners and users.
True to the original in 1:43 scale. Licensed by Dr. Ing h.c.F. Porsche AG.
The Master 419, with its air-cooled four cylinder diesel engine and 3.5 litre cubic capacity, was the largest Porsche diesel tractor ever built in series. For that time, it was an exceedingly powerful vehicle with a length of 3.38 metres (11.1 ft), 2.16 metres wide (7.1 ft), 1.64 metres high (5.4 ft) and a weight of 2.1 tonnes. The model included in the Advent calendar is true to the original down to every detail.
24 calendar boxes contain components and accessories. Easy to screw or glue together.
The chassis colour is classic Porsche signal red. The image on the Advent calendar box is coordinated to be true to style.
A sound module in the plastic pedestal emits the distinctive Master tone.
Pedestal to assemble (finished dimensions approx. 20 x 9 x 2cm (7.9" x 3.5" x 3.1")) with battery compartment, on/off switch and feet.
Large-format, booklet with many rich images with assembly instructions and well-based background information.
Any fan of Porsche and/or utility vehicles will enjoy reading this booklet. 56 pages, 4 colour print, with soft cover.
An ideal gift and valuable contemporary document - not a toy.
The Advent calendar measures 33 x 28.5 x 4cm (13" x 11.2" x 1.6", W x H x D). Weighs approx. 0.8kg (1.76 lbs). Finished model: approx. 20 x 9 x 8cm (7.9" x 3.5" x 3.1", W x H x D). Complete with booklet, model set and platform including sound module. From 14 years of age and up. Operates with 2 AA batteries (sold separately).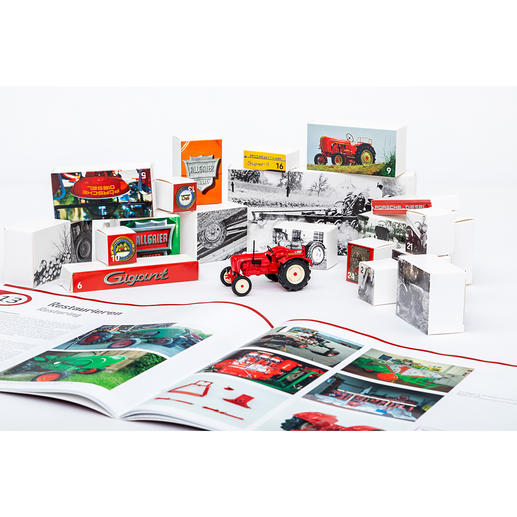 Be the first to review this product