05.04.2020 - We are still here for you. Standard delivery currently takes about about 5 to 7 working days. Mohr
Premium suitcase trolley and a perfectly organized travel wardrobe.
Patented 2-in-1 construction to transport and store your travel wardrobe neatly and keeps everything within easy reach.
Finally, you can save yourself the hassle of unpacking and rearranging your travel wardrobe. Once packed, every part of your travel wardrobe is within easy reach. Because this patented suitcase trolley transforms into a perfectly organized, 1.30m (4.3ft) high travel wardrobe at your destination.
Keeps your entire wardrobe clean and tidy during your stay.
You can fill the 6 firmly integrated, extendable storage compartments just as you wish, and then put them back in the case with the help of the telescopic poles. When you arrive in your hotel room just pull out the telescopic poles and open the front zip to gain easy access to the contents.
The 8-piece organising system (included) allows you to pack for at least seven days.
3 large zipped boxes provide space for pullovers, shirts, jeans etc. There is a separate box for underwear, socks, small items and another one for shoes. The garment bag provides space for suits, dresses, blouses and keeps them crease-free. Also included: A box for toiletries and a laundry bag.
No matter where you are, you always have easy access to everything inside your suitcase.
At the airport, on the train etc. Simply pull up the folding shelf section briefly or open the front flap and remove the desired items without difficulty. Padded outer pocket at the back for tablet or notebook (up to 15.4"). Large interior compartment within the front flap.
Four reflective 360° roller wheels – extremely quiet, smooth and manoeuvrable.
3-digit TSA combination lock compliant with US security agency guidelines.
High-quality materials – solid and durable.
Lid and base made of sturdy hard plastic. Soft shell 1,680 denier nylon: tear-proof, durable and water-repellent. Telescopic poles made of aluminium. Handle extends in 3 steps up to 103cm (3.8ft). Measures 57 x 76 x 36cm (22.4" x 29.9" x 14.2") (W x H x D), pulled up 136cm (4.5ft) high. Weight about 9kg (19.8 lbs). Colour: Black.
8-piece organising system included:
3 large bags (2x 44 x 26 x 10cm (17.3" x 10.2" x 3.9")), 1x 44 x 26 x 8cm (17.3" x 10.2" x 3.1")), 1 small bag (24 x 26 x 12cm (9.4" x 10.2" x 4.7")), 1 toiletry bag (24 x 26 x 12cm (9.4" x 10.2" x 4.7")), 1 shoe box (44 x 26 x 10cm (17.3" x 10.2" x 3.9")), garment bag (44 x 26 x 10cm (17.3" x 10.2" x 3.9")), laundry bag (46 x 44cm (18.1" x 17.3")).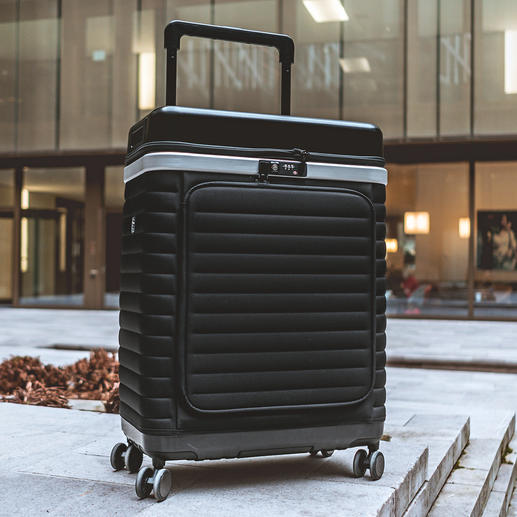 Be the first to review this product