Communicate like Captain Kirk. With the legendary Star Trek Communicator.
Accurate and fully functional 1:1 imitation. Officially licensed by CBS.
For fans of the science fiction cult series from 1966, the legendary communicator is the forefather of all mobile phones. And on the 50-year anniversary of Star Trek, the onetime future vision for the 23rd century has become a reality.
Probably the coolest way to make a phone call.
Simply connect the Communicator via Bluetooth to your smartphone. Incoming calls are announced with the characteristic beep sequence and are accepted in authentic style by tilting up the gold-coloured antenna grill and pushing a button – accompanied by the original chirping sound and the sensationally circulating moiré discs. Snap it shut and push the button to end the call. You can initiate your own calls with voice commands or the function "choose last number".
Made from 3D scans of the last prop models with original sound files and speech clips.
Every detail, all materials and textures closely follow the original, and are partly created with 3D printing.
The push of a button suffices: And readily the built-in speakers announce: "Captain Kirk, message from Starfleet Command – top priority" in the voice of Uhara or "Can you give us your present location, Captain?" by Spock ... 20 well-known sound files are installed. Your party guests and friends will be thrilled.
The magnetic docking station is a stylish stand and charging station in one.
With the integrated speakers, you can also listen to music wirelessly from your smartphone, tablet, laptop ... up to a distance of 5m (16ft), transmitted via Bluetooth. With the announcement "power cell drained" and a red light in the left jewel, the Communicator notifies that it needs to be charged. Charging time approx. 4 hours. Delivery includes transport box and protective cover. Made from metal and plastic. Size 22 x 13.9 x 4.6cm (8.6″ x 5.5″ x 1.8″). Communicator weighs 150g (5.3 oz), docking station weighs 125g (4.4 oz).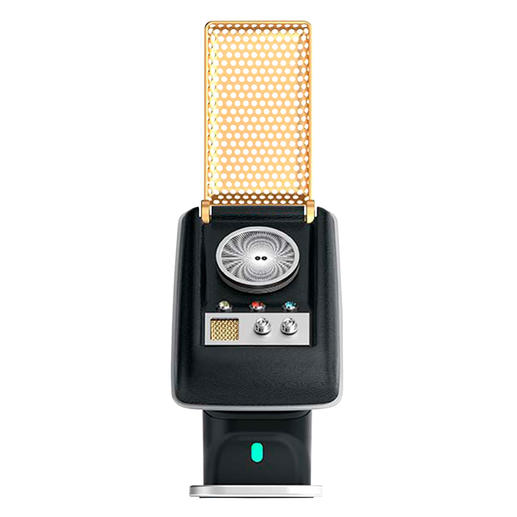 Be the first to review this product