Jump Rope Smart Rope®
The smart version of the fitness classic "the jump rope".
The smart version of the fitness classic "the jump rope".
Magic LED display with number of jumps. Connects via Bluetooth to the fitness app*.
No more (mis)counting your jumps. The patented magnetic sensors of the Smart Rope® count every jump for you. And 23 LEDs embedded in the middle part of the rope magically display in mid-air the number of jumps during your workout.
Ball bearings ensure a smooth jump rope motion.
The rotatable plastic rope is mounted at a 45° angle to the cool chrome handles. Inside, it is guided over 4 ball bearings. The left handle has an on/off switch and a protective cap with the micro USB charging port underneath it. The LED in the right handle gives information about the Bluetooth connection status and the battery charge status via colour variation.
The smartphone app* optimally supports highly efficient cardio training.
In addition to the number of jumps, it also shows you the time spent and the calories burnt, defines training goals, offers interval training and documents your fitness progress. Via Facebook you can challenge friends to a competition.
Stylish-looking winner of the iF Design Award 2016.
The integrated lithium-polymer battery is fully charged in 2 hours and can be used for about 36 hours of exercise. Size M suitable for people who are approx. 165cm to 175cm (5'5" - 5'7") tall. Size M measures 258cm (8.4 ft) in length, weight 308g (10.8 oz). Size L for people who are approx. 178cm to 188cm (5'10" - 6'2") tall. Size L measures 274cm (9.0 ft) in length, weight 314g (11.1 oz). Colour: Chrome/black. Delivered in storage bag with zip.

*Smart Gym Pro for Android/iOS (free of charge).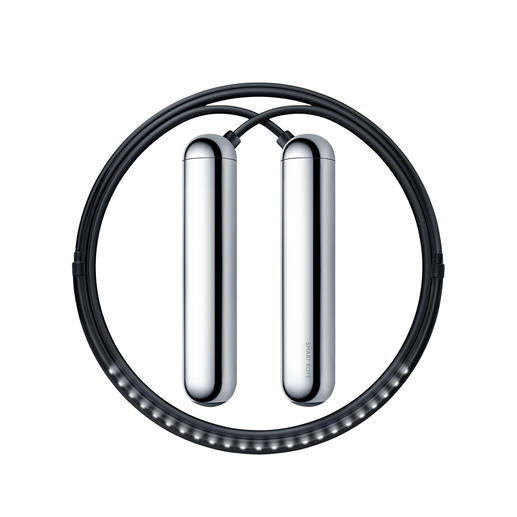 This might also interest you:
Be the first to review this product