06.04.2020 - We are still here for you. Standard delivery currently takes about about 5 to 7 working days. More
Cool gadget for hot summer days: The Fan to Go.
Simple to hang. With 3 speeds and LED lights. And up to 8 hours of battery time.
Just hang it on, switch it on, position both of the fans on the flexible end pieces and a pleasant air stream immediately cools your face. Both hands stay free. So you enjoy constant cooling during sweaty activities such as gardening or cleaning, walking, hiking, shopping, or even working in the office.
3 speeds. 2 light modes.
Slight breeze or strong air stream? The 2000 mAh lithium ion battery has enough power for up to 2 hours of continual operation at the highest level (or up to 8 hours on the lowest). If you like, you can choose one of the following light modes: Alternating red, yellow, green, blue or monochromatic in turquoise.
Can also be used flexibly as a table fan for the desk or nightstand.
Charge time about 3 hours. Micro-USB charging cable included. Of ABS and silicone. Measures 23 x 3 x 19cm (9″ x 1.2″ x 7.5″). Weighs 185g (0.4 lbs). Colour: Black/Red.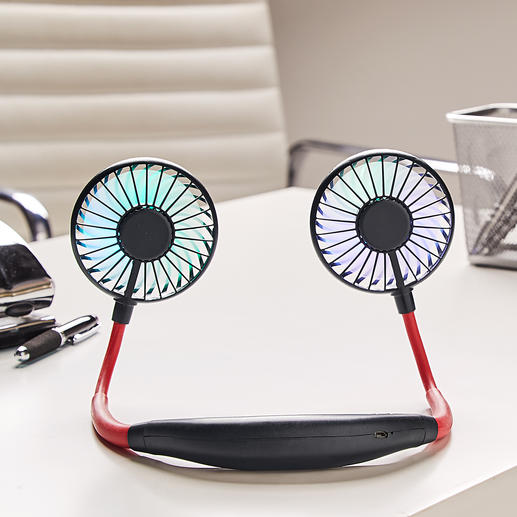 Be the first to review this product