06.04.2020 - We are still here for you. Standard delivery currently takes about about 5 to 7 working days. More
3mm thick solid material (nortilen): Robust, UV-resistant and cold-resistant.
Clever design for perfect sailing performance.
A real, premium quality eye-catcher – made in Germany.
Matching paddles also available to order
3mm thick solid material (nortilen): Robust, UV-resistant and cold-resistant.
Clever design for perfect sailing performance.
A real, premium quality eye-catcher – made in Germany.
Matching paddles also available to order
The nortik folding kayak: Thanks to ingenious origami technology and a little bit of practice folds out in just 3 to 5 minutes.
Easy to carry with you, thanks to the small pack size. Ready for use and packed away again in no time.
Finally, a kayak that does not need an extra berth – and one that takes up no storage space in the shed or garage. When folded down into the matching carrying bag (included) it measures only 92 x 30 x 74cm (36.2" x 11.8" x 29.1"), and it even fits into the boot of your car. This way you don't need a trailer or a roof rack. Featuring a comfortable shoulder strap, it can easily be carried to the water's edge and set up directly at the shore.
3mm thick solid material (nortilen): Robust, UV-resistant and cold-resistant.
Instead of pipe rods, fragile hollow chamber plates or easily lost screws, belts and split pins, this kayak is made of a single hard shell. This shell can be narrowed or folded up completely origami style, by means of a polyethylene frame. This prevents potential miss-folding from the start. No sharp edges to injure you. No cavities in which algae can form or dirt can accumulate.
Clever design for perfect sailing performance.
A fold-out cockpit covers the floor in the seating area. The inflatable padded seat ensures that you can sit comfortably; Two keder rails seal the front and back deck. Thanks to its rigidity and tapered shape, the kayak behaves almost like a real boat. The pointed bow cuts through the water precisely – far better than rounded inflatable kayaks. The stern ensures optimal steering. Even with gusts and changing side winds, the kayak easily stays on course.
A real, premium quality eye-catcher – made in Germany.
The sleek design, the milky-white cover and the clear lines make the kayak exceptionally elegant. The kayak is a premium quality product and is made entirely in Germany: From material development and processing through to final assembly and quality control. Measures unfolded 420 x 64cm (13.8ft x 2.1ft) (L x W), max. 29cm (11.4") H. Weighs 16kg (35.2 lbs). Carries max. 130kg (286.6 lbs). Interior seat: 76 x 48cm (29.9" x 18.9"), outside: 82 x 53cm (32.3" x 20.9"). Packed size: 92 x 30 x 74cm (36.2" x 11.8" x 29.1"). Incl. backpack and installed footrests.
Matching paddles also available to order
Made of premium lightweight fibreglass, comes apart in 4 pieces and can be stowed in the backpack.
Enthusiastic response from Europe's largest specialist magazine "Kanu-Magazin".
"Nortik Fold 4.2 is the high-end folding kayak with a record-breaking short set-up time, and is also completely suitable for beginners. It's a luxury class leisure boat that's incredibly portable."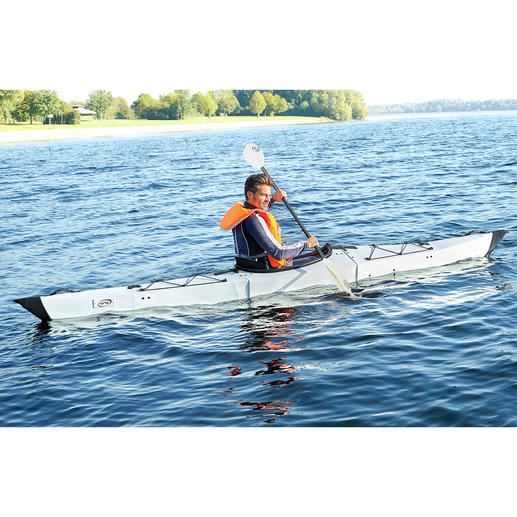 Be the first to review this product