From the Pro-Idee Special Shop
Cuisine
From the Pro-Idee Special Shop
Cuisine
Prepare your favourite coffee in the middle of the woods, at sea, on the slopes or simply at home. This espresso machine can do it all.
The portable Nanopresso is smaller, lighter, stronger. Brews aromatic espresso with a maximum of 18 bar pressure. Without electricity.
It takes up no more space than a soft drink can and weighs only 365g (0.8 lbs) (instead of more than 500g (1.1 lbs) which is often the case) - yet, it is a full-fledged espresso machine (it even has a cup). And is designed to be ready wherever you go: The beach, a picnic, skiing, ... without the need for electricity.
Prepares aromatic espresso. With a maximum of 18 bar pressure (instead of often only 8 - 12 bar).
Simply add ground espresso beans to the strainer in the brewing head (measuring spoon/tamper supplied) and fill the tank with hot water, e.g. from the separately available Nanovessel or another vacuum flask. Simply pump about 6 times to build up the optimal pressure to brew perfect cups of coffee with a nice and dense crema layer every time.
Practical for a use at home as well.
Housing made of robust plastic (BPA-free) and aluminium. Measures 18.5 x 8.5cm (7.3" x 3.3") (H x diameter), weighs 365g (0.8 lbs). Water tank holds 80ml (for 2 cups of espresso or 1 doppio/lungo). Colour grey.
Practical accessories available separately.
Use the elegant black hard shell case to protect your Nanopresso from knocks, scratches and dirt. With zip and loop. Measures 8.5 x 21cm (3.3" x 8.3") (diameter x H), weighs only 80g (0.2 lbs). The Nanovessel insulated vacuum flask has been specially developed for use with the Nanopresso. To brew, simply screw the hot water-filled stainless steel body (max 210ml) onto the hand-held espresso machine. This way you don't have to pour in the water, preventing it from cooling down as well. Of course, you can also use the Nanovessel as a normal thermos flask. With tea strainer (removable) and mug. Measures 14.6 x 6.2cm (5.7" x 2.4") (H x diameter), weighs 190g (0.4 lbs). Fits in almost every car drink holder. And for brewing espresso/coffee capsules simply use the screw-on capsule adapter. Measures 6.6 x 6.2cm (2.6" x 2.4") (H x diameter), weighs 130g (0.3 lbs).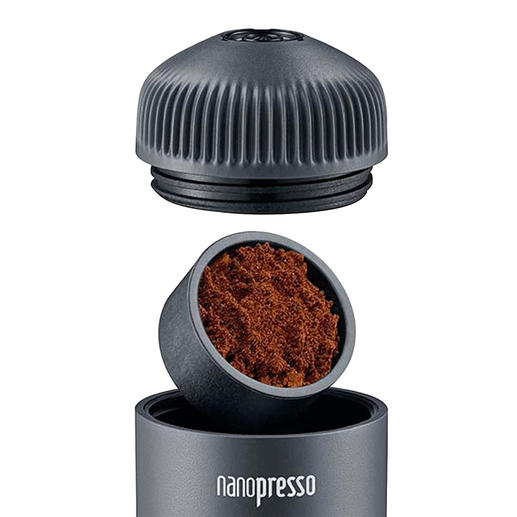 Be the first to review this product