KEEGO Titanium Sports Drinking Bottle
KEEGO Titanium Sports Drinking Bottle
Lightweight and squeezable like a plastic bottle. Hygienic and durable like a metal bottle.
KEEGO, the first flexible sports drinking bottle made of titanium.
This innovative drinking bottle combines the advantages of typical, squeezable plastic bottles with the pure, unadulterated taste of a metal bottle. As a result, you can always enjoy your refreshment free of the stale plastic taste. No health risks due to plasticisers, plastic particles or mildew. Also available without mouth contact.
Squeezable like sports drinking bottles made of PET.
This flexible metal bottle can be squeezed together just like sports drinking bottles made of plastic. 
The innovation lies in the combination of a pure titanium layer on the inside and a plastic layer on the outside. In addition, the special bottle shape ensures optimum pressure and stress distribution.
Also ideal for cycling tours. And it fits most bottle holders.
Ribbed surface coating for a non-slip grip. Leak-proof closing push-pull valve made of soft rubber to protect the teeth. Holds 750ml (25.3 fl. oz). Measures 7.5cm (2.9″) in diameter, 24cm (9.4″) H. Weighs 92g (3.2 oz).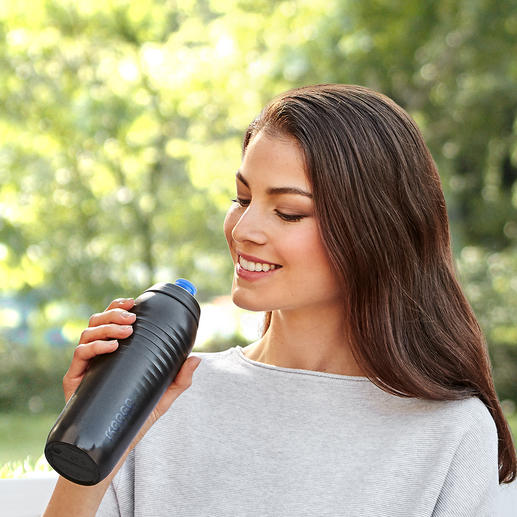 Be the first to review this product