chili-feet Warming Insole, One Pair
chili-feet Warming Insole, One Pair
Ingenious warming insole without batteries or wires.
Turns kinetic energy into heat with each step. Swiss quality product.
No more cold feet and frozen toes while jogging, walking, hiking, shopping etc. These revolutionary insoles warm your feet with every step. In contrast to conventional warming insoles, these insoles don't need electricity, annoying battery packs or wires. The ingenious insoles produce warmth from the compression and release created by walking.
The result of years of material research and development.
The heat-generating effect is based on a specially developed polyurethane foam which is compressed and relaxed again with every step. The resulting friction generates warmth and the surface temperature rises up to 10°C (5mm sole) or 5°C (3mm sole) after only approx. 12 minutes of walking.
In 2 thicknesses: For virtually every shoe, during autumn, spring and winter.
In winter, wear the 5mm thick chili-feet insole in boots, hiking and work shoes, and while cross-country skiing or hiking. The thinner 3mm sole is ideal for the transitional seasons, and fits perfectly in running shoes, business shoes and court shoes.
Comfortable, shock-absorbing and hard-wearing.
Warming effect for at least 1.5 million steps. Suitable for anyone weighing more than 48 kilos (106 lbs). Can be cut to size 35 to 47. Washable up to 30°C.
Prominent athletes also swear by chili-feet soles.
Adventurer and mountaineer Evelyne Binsack benefited from the warming effect of the chili-feet insoles when climbing Mount Everest and on her expedition to the North Pole.
Biathlete Susi Meinen, member of the Swiss National Squad, is also convinced: "The chili-feet insoles are my number one choice against cold feet".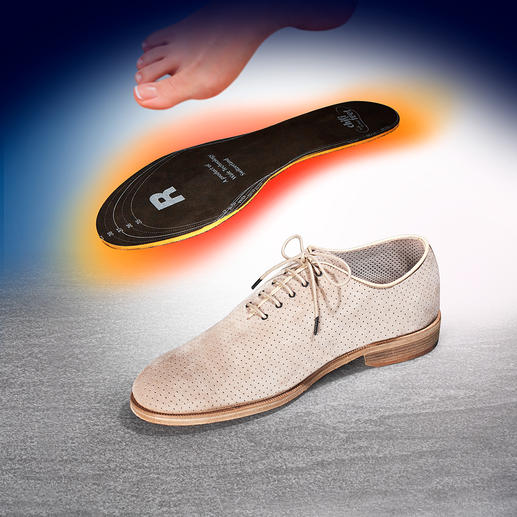 Be the first to review this product