08.04.2020 - We are still here for you. Standard delivery currently takes about about 5 to 7 working days. More
Dynamic planking is even more effective.
Lots of fun for the whole family.
Compact and stable.
A fun workout routine. With Plankpad® Pro, the interactive full-body trainer.
Effective balance, coordination and strength workout with a hint of fun.
The ingenious combination of a balance board and smartphone app* turns highly efficient but boring plank exercises into an entertaining workout. Place your smartphone or tablet in the centre of the movable plate in front of you, and you can control the game by transferring your weight. Interact with virtual characters, catch donuts, complete skill exercises, score at football etc. While concentrating on the game, the time passes amazingly quickly. You will be more motivated, keep exercising for longer and will achieve training results more rapidly.
Dynamic planking is even more effective.
Almost the entire musculature of the trunk and back is exercised, along with the muscles of the legs, shoulders and arms. In particular, the centre of the body (vital for good posture and body tension) is strengthened. This prevents back pain in a more effective manner. In addition, balance and coordination are enhanced.
Lots of fun for the whole family.
The playful element also inspires children and young people to plank. Fitness fans and advanced users will find numerous game-independent workouts and a 30-day challenge of increasing difficulty in the app. If the app notices postural errors, it gives hints for improvement. Standing on the Plankpad® Pro, you train your sense of balance just like a snowboarder or surfer. Connected to your Smart TV, the app allows you to compete in large groups in front of a big screen.
Compact and stable.
Unlike the previous model which was made of simple poplar wood, the Pankplad® Pro is made of high-quality maple wood with foam padding and a walnut finish. Weight capacity up to 180kg. With carrying handle. Supplied with sound-absorbing non-slip mat and exercise poster with 12 plank exercises. Measures 50 x 36 x 8cm (19.7" x 14.2" x 3.1") (W x D x H). Weight approx. 3kg (6.6 lbs).

* Compatible with iPhone, iPad and iPod touch (iOS 8.0 or later) and Android smartphones and tablets (Android 4.4 or higher).
Crowdfunding success story and TV star.
On Kickstarter the Plankpad belongs to the rare campaigns that raised more than £86,000. In the German TV show "Die Höhle der Löwen" entrepreneur Ralf Dümmel paid £43.000 for 15% of the company's shares in the start-up of the designer André Reinegger.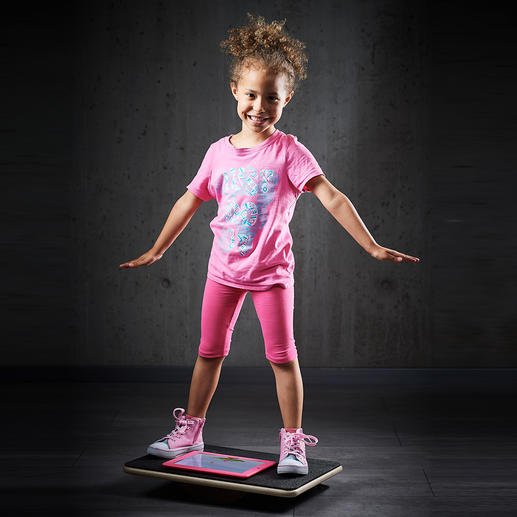 Be the first to review this product