Visconti Fountain Pen, Pro-Idee Edition
Visconti Fountain Pen, Pro-Idee Edition
All the innovative technologies of luxury manufacturer Visconti: Combined for the first time in a fountain pen.
Developed exclusively for Pro-Idee and limited to only 50 pieces worldwide.
This handcrafted fountain pen from the Florentine manufacturer Visconti has been designed exclusively for Pro-Idee, and combines all the patented technologies of the luxury brand for the first time. Limited to only 50 numbered pieces, it is a coveted collector's item.
In your hands: The power of lava rock from Mount Etna – with very special properties.
The mixture of 50% lava basalt and 50% cotton resin makes the body and caps particularly easy to handle. The natural hygroscopic material is virtually unbreakable and is able to absorb moisture. This way you always have your fountain pen firmly under control.
Particularly comfortable: The cap with bayonet closure (instead of screw thread).
Unlike conventional screw caps, it only takes some gentle pressure and a half twist to open and close. A special inner cap ensures that the fountain pen never opens accidentally.
Impressive: The translucent ink reservoir with double chamber and rapid filling system. 100% leak-proof.
Made of amber-coloured silk resin with fine lava dust inclusions, the semi-transparent ink reservoir perfectly complements the colour of the bronze elements. Lower and upper (reserve) ink chambers together hold 3.2ml (instead of often only 0.8ml). This saves frequent refilling. To transport, the reservoir can be separated from the ink conductor and nib with a simple twist, and thus close again tightly. Nothing drips or runs out.
Elegant centrepiece: The Dreamtouch nib made of 18-carat rose gold.
The gold nib (thickness M) glides gently and almost without the need for pressure over the paper and makes clear, expressive pen strokes.
Unmistakable Visconti: The spring-loaded clip in the shape of the stylised Ponte Vecchio.
Clip and bands are made of bronze.
Included in the price: The travel inkwell worth £45.
Perfect for easy, quick and clean refilling without drips and stains.
Complement with the Visconti inkwell.
Size of the pen (L x Ø): 14.5 x 1.4cm (5.7" x 0.6"). Weight: 44g (1.6 oz). In beautiful gift box with glass lid.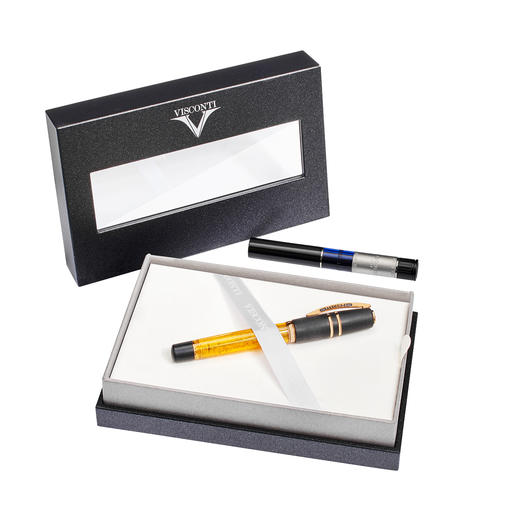 Be the first to review this product