Advent Calendar Kit VW Bulli T1
Advent Calendar Kit VW Bulli T1
The legendary VW Bulli T1 – as an advent calendar kit.
Turn advent into an automotive festival in 24 steps. Scale model 1:43, officially licensed.
It was once the unbeatably versatile camping van and beloved companion of families and adventurers. Carefully tended and cared for, the T1 still enjoys great popularity. Today, the boxy archetype is an icon for whole generations. A stylish lacquered two-tone pale turquoise/pearl white colour with the distinctive VW front, this licensed kit is true to the original model from 1963 right down to the last detail.
24 boxes contain the Bulli components, 2D figures, decoration material and background panels etc. for authentic 1960s scenery.
Together, the printed boxes give a historic Bulli image. What's more, if you turn round each box after unpacking and put it back in the cardboard slipcase you'll create a completely new picture because of the reversible motif on the boxes.
Developed as an official Volkswagen licensed product.
From the typical headlights to the exhaust, the kit corresponds in detail with the original. Large windows give a view of the interior, which was often used as a sleeping place by globetrotters.
Easy to assemble or screw together: Much more stylish and easier than gluing.
All parts are made of durable plastic and are carefully lacquered. Originally chrome-plated parts have a corresponding silvery shimmer. The title motif of the calendar exactly matches the pastel turquoise body of the car.
Use the sound module to make the typical Bulli sound at the push of a button.
A melody reminiscent of freedom and adventure. Plug-in and screw-down the plastic base with sound module, battery compartment, on/off switch and floor pads.
Large, richly illustrated accompanying book with 24 exciting episodes from the Bulli story.
Told by author Michael Behrndt, it's a real pleasure to read. Solid background information and many historical photos tell the authentic Bulli lifestyle story. 52 pages, 4-colour printed, softcover. Including assembly instructions.
An ideal gift and valuable contemporary document – it's no childish toy.
The advent calendar measures 33 x 28.5 x 4cm (13.0" x 11.2" x 1.6") (W x H x D). Weight approx. 0.8kg (1.8 lbs). Complete with booklet, model kit and plastic base incl. sound module (finished size approx. 20 x 9 x 8cm (7.9" x 3.5" x 3.2"), W x H x D). Suitable for ages 14 years and older. Uses 2 AA batteries (sold separately).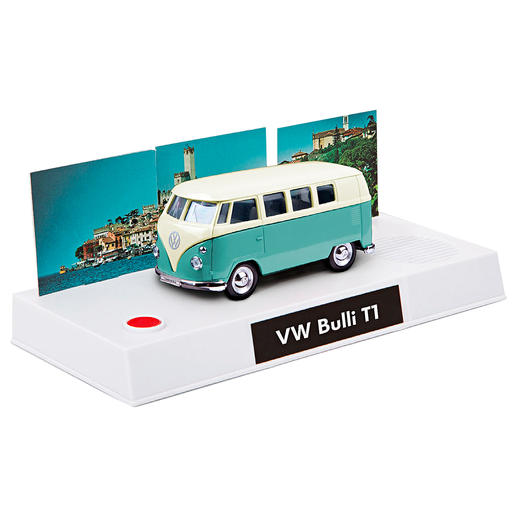 Be the first to review this product