Sophisticated glass design – three functions: Lantern, vase and wine cooler.
Timelessly elegant. Suits any ambience. Can be decorated to match the season.
Lanterns, vases and coolers generally only fulfil a single purpose. This elegant, well-designed glass on the other hand, is at least thrice as useful. An ideal gift for the person who has everything.
Lovely as a simple lantern, inside and out.
Crystal clear, 3.5mm (0.14″) thick glass provides a clear view of the living flame. The flat, smooth interior floor provides stability for candles up to 8cm in diameter (3.15″). The broad, polished stainless steel ring keeps bumps away from the edge of the glass and serves as a windbreak at the same time. The flame can therefore withstand draughts from the window, or a summer breeze outside.
Can be decorated according to the season.
Fit the glass with cones, balls and a chain of lights: A festively elegant Christmas decoration. With eggs and artificial grass: A cheerful Easter nest. Mussels, sand and floating candles conjure up a summery flair – and with colourful foliage and hop tendrils you can greet the autumn with a great mood.
Also ideal for bouquets of flowers, as a bonbonnière and to cool wine or champagne.
The stainless steel ring keeps smaller and lush bouquets in shape, as well as individual flowers and twigs. As a wine cooler, the ring does not let bottles strike the edge of the glass. The oaken handle ensures safe transport to the coffee table or barbecue area in the garden. Measures 23cm high, 18.5cm in diameter (9″ x 7.2″). Weighs approx. 1.6kg (3.5 lbs). Design: Anton Björsing.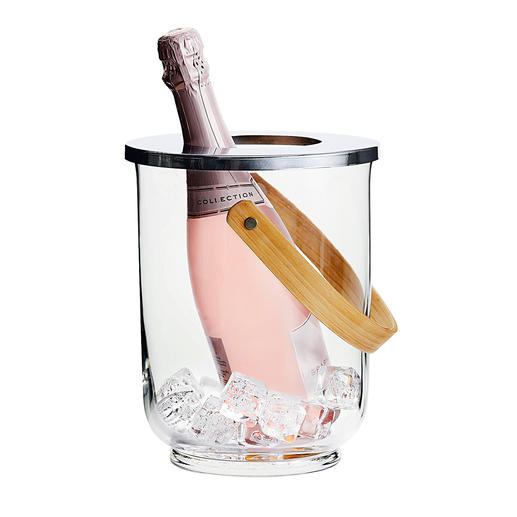 Be the first to review this product