Twinkle Kid® Reflector Beanie
Twinkle Kid® Reflector Beanie
The trendy knitted beanie with daylight effect is secured and cool.
Easily visible in the dark - thanks to bright reflector fibres.
During the day a cool knitted beanie in a hip striped look. As soon as a light falls on the hat in the dark, it glows brightly all around – visible up to 150m (492 ft) away. The secret: A fibre originally developed for safety and sports clothing inside the hat seam. No unattractive reflector appliqués, no power supply and no batteries. Ideal for the path to school and kindergarten, when cycling, …
Doesn't scratch. Doesn't pinch. Looks good. As popular with kindergarten children as with elementary school pupils.
The inside of the hat edge is lined with a 7cm (2.8″) wide fleece trim (100% polyester). Like a headband, the cuddly fabric protects against cold and wind. Textured knit made of virgin wool (50%) and polyacrylic (50%). Machine washable. With reflective Twinkle Kid® logo, in 2 colour combinations. Inside label can be inscribed with the name of the child. Made in Germany. 2 sizes: 50/52 for approx. 3-5 years, 54/56 for approx. 6-12 years.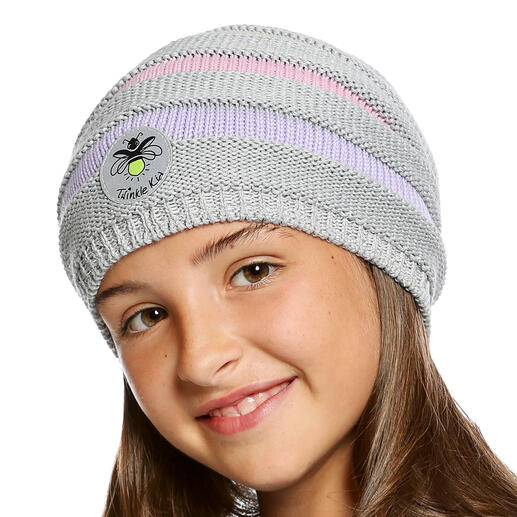 Be the first to review this product