Safety vest 2.0 for a better visibility thanks to LED lights on front and back.
Ideal for cycling, jogging, hiking, going for a walk, on the way to school, etc. in the dark.
Conventional safety vests only reflect light. This one lights up by itself. With 4 extra-bright white LEDs on the front and 4 red lights on the back.
At the touch of a button you can switch between 3 light modes:
Easily visible permanent light for a normal environment. Flashing (warning) for particularly critical situations with busy traffic. Slowly blinking in power-saving mode for a safe, low-traffic environment. The light modes for the front and rear LEDs are controlled independently.
Integrated rechargeable battery with micro USB port.
Charges in just 2 hours (charging cable included). At the highest lighting level, a full charge lasts 3.5 hours; in the power-saving mode for as long as 7.5 hours.
Additional reflectors ensure 360° visibility.
The elasticated belt system with click fastener fits comfortably over any jacket. It weighs only 150g (5.3 oz) and is infinitely adjustable from 135cm (4.4 ft) to 200cm (6.6 ft) body size and 65cm (25.6") to 135cm (53.1") waist circumference. 100% polyester. Colour: Neon yellow.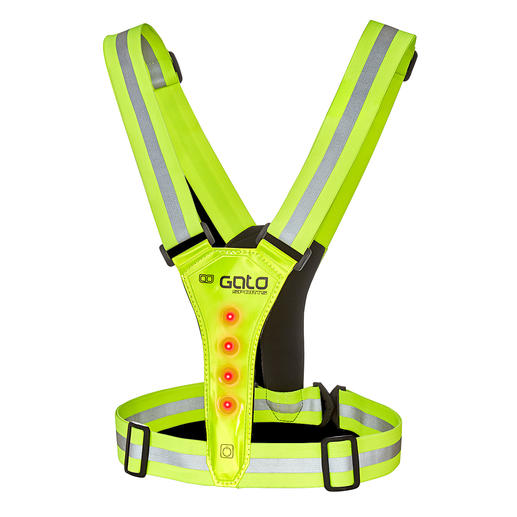 Be the first to review this product