The brilliant wet-dry dustpan set with brush and rubber lip.
Takes care of dry and wet grime in the blink of an eye – and leaves no residue.
Spilt juice, yoghurt... and crumbs, lint, dust: This patented dustpan set gets rid of dry and wet rubbish in no time without leaving residues. Depending on your need, you can use the densely bristled, PET brush of the hand brush, or turn the cleaning sheet 180° around and wipe up liquids with the integrated rubber lip. This will save you bothersome mopping and time.
Extra large dust pan with extra high sides and overflow brim.
Cleanly picks up larger amounts – without letting anything fall out. The overflow brim keeps cleaned-up liquids securely in the container.
Sweeping becomes child' play, even in hard to reach corners.
The 360° cleaning sheet can be used in 8 different positions. This lets you use the brush and levelling blade horizontally or vertically, depending how you like it, and always at an optimal angle to the handle. Pan and sweeper snap together magnetically. This lets you grab everything in one go and it can be tucked away just as quickly. Made from robust plastic and silicone. Measures 26 x 39 x 23cm (10.2″ x 15″ x 9″ (W x H x D)), weighs approx. 565g (1.25 lbs).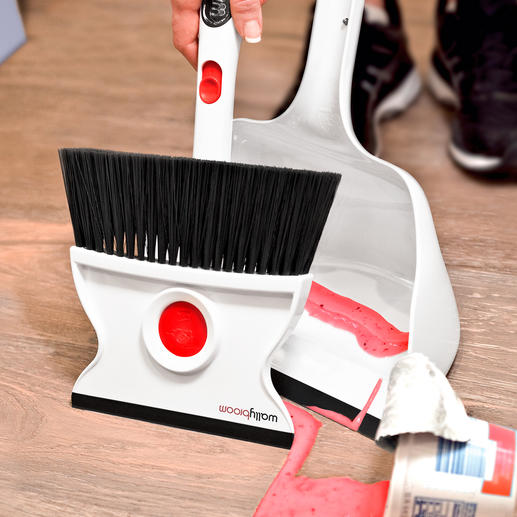 Be the first to review this product