"Supergrip" Vacuum Hooks, Set of 3
Perfect for bathrooms, kitchens, cellars, hobby rooms, caravans, …
"Supergrip" Vacuum Hooks, Set of 3
Perfect for bathrooms, kitchens, cellars, hobby rooms, caravans, …
"Supergrip" – does away with drills, screws and glue.
Just screw it on. Sticks almost anywhere – including structured surfaces. Holds up to 17 lbs (!) – without budging.
These are nothing like standard suction hooks. Instead of only adhering to smooth bases, "Supergrip" even sticks rock solid to structured surfaces such as mosaic tiles and frosted glass. A gel-filled grip-pad on the base of the vacuum suction foot adapts to rough or grained surfaces and gives it extra holding power. Even if you release the vacuum: The hook can only be removed by pulling on the rubber lip. Without leaving any residue or marks.
Perfect for bathrooms, kitchens, cellars, hobby rooms, caravans, …
Hand towels, bathrobes, clothes, tools, brushes, kitchen utensils, dog leads or shopping bags, ... Each hook can bear a max. 8kg (17.6 lbs). Should the grip-pad lose some of its gripping power, simply give it a quick rinse under water. Each one measures 6 x 9.7 x 3cm (2 2⁄5" x 3 4⁄5" x 1 1⁄5") (W x H x D) and weighs 31.5g (1.1 oz).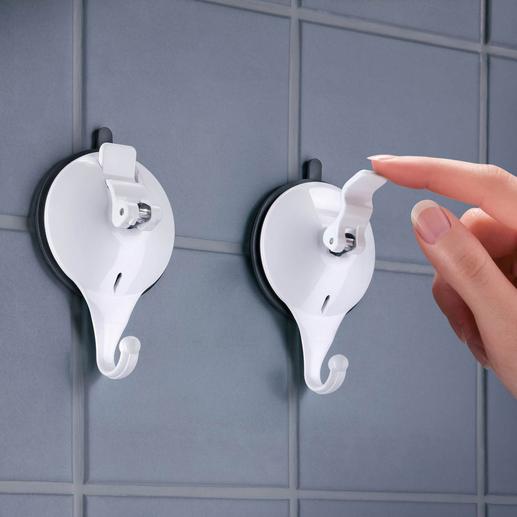 By John T. on 16.01.2018
Supergrip Vacuum Hooks
The hooks are larger than they appear in the pictures. The adhesion is strong. I tested a removal of a hook and rehung it and itdoes all that is said on the packet.
By A C. on 29.08.2017
Supergrip
Brilliant hooks and certainly supergrip. Can be moved leaving no trace. I have now bought 4 sets. So useful in the bathrooms and shower room. A must have.