06.04.2020 - We are still here for you. Standard delivery currently takes about about 5 to 7 working days. More
Much more practical and more hygienic: Non-slip sports towel with magnetic clip and pockets.
The magnetic clip allows you to hang the towel on any ferromagnetic surface – perfect for many fitness machines. Use it on the training bench and cover the backrest like a hood – it stays put perfectly!
For better hygiene, the appliance side and the side in contact with the body are clearly differentiated in terms of look and feel.
You can safely stow your keys and membership card in the zipped pocket. The integrated mobile phone compartment made of touch-sensitive mesh allows smartphone operation without removing it.
Soft, lightweight, absorbent and quick-drying thanks to Zero Twist cotton.
The voluminous hollow yarn is made from particularly long fibres and using an innovative spinning process. Despite its generous dimensions of 105 x 42.5cm (41.3" x 16.7"), the towel weighs only 290g (10.2 oz). Colour: Grey. 96% cotton, 4% polyester. Machine washable at 60°C.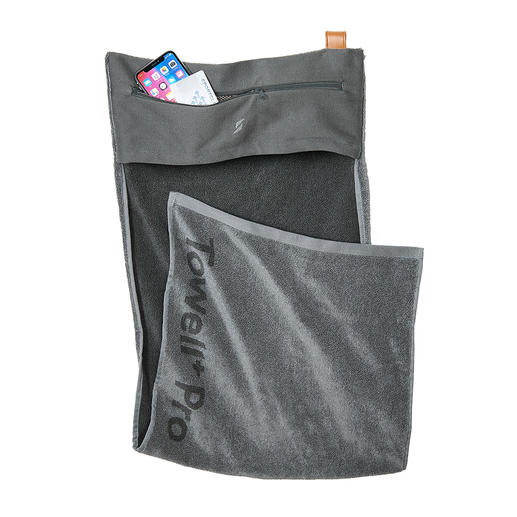 Be the first to review this product