09.04.2020 - We are still here for you. Standard delivery currently takes about about 5 to 7 working days. More
Design Clothes Hook "pinup" or "pinup duo"
Design Clothes Hook "pinup" or "pinup duo"
Ingeniously clever design.
Has won numerous awards.
Award-winning: Elegant coat-hook. Or spacious clothes rail. Switched in no time.
Now available as a double hook.
At first glance it's a wall hook with a modern design for cloaks, jackets, bags, etc. yet when guests arrive (or you would like to hang up your ironing), it switches within a second into a solid 13cm (5")
wardrobe rail for up to 6 clothes hangers.
Ingeniously clever design.
Nothing needs to be removed or stuck in. Simply shove the bent rod upwards or downwards through the slit on the inside of the metal cube. Massive discs on both ends hold the bar securely in position.
Has won numerous awards.
Honoured with the "Design Plus" award 2007, the design prize Frankfurt "Form 2008". Nomination for the design prize of the Federal Republic of Germany.
Easy assembly with a base plate and 2 screws/dowels (supplied). Made of aluminium and stainless steel. Single hook measures 4 x 4 x 15.5cm (1 2⁄3" x 1 2⁄3" x 6"), double hook measures 14 x 4 x 15.5cm (5 1⁄2" x 1 2⁄3" x 6") (W x D x H folded down). Weigh ca. 200g (7 oz) and ca. 470g (16.6 oz) respectively. Each carries up to 3kg (6.6 lbs).
(Clothes hanger not included.)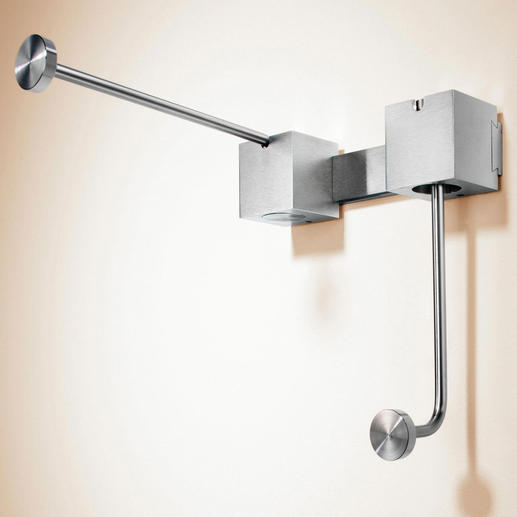 Be the first to review this product