Now with lint-free microfibre strip washer.
Now with lint-free microfibre strip washer.
At last: The squeegee of professional window cleaners can be yours to use at home.
Never before has window cleaning been such a breeze.
Most of the simpler squeegees pale into insignificance compared to this one. Thanks to a special rubber lip, it retains its texture no matter what the temperature is and won't turn soft or brittle. The Ettore® has been successful in the US since 1936 and can now be used in your home to get the same long-lasting, streak-free results with a single swipe.
Now with lint-free microfibre strip washer.
The strip washer has soft tufts which store considerably more water than regular sponges so that it can easily eliminate even the toughest dirt. Ingenious: Use the strip washer and squeegee individually. Or simply push the 16cm (6 1⁄3") handle of the strip washer over the squeegee's and use both 40cm (15 7⁄10") wide tools together by flipping them front to back. Strip washer has hook and loop fasteners and can be detached and machine washed up to 60°C. Squeegee with indestructible stainless steel handle.
From window cleaner to millionaire.
It's the typical story of the American dream. Ettore Steccone came to the United States from Italy in 1896 to seek his fortune as a window cleaner. As much as he enjoyed his job, he didn't like the heavy steel squeegee he had to use. He experimented with various materials until he discovered the patent for his window cleaner with a rubber lip. The "New Deal" has been used in the US ever since. And to this day Ettore® has managed to carefully guard the secret of the rubber's formula.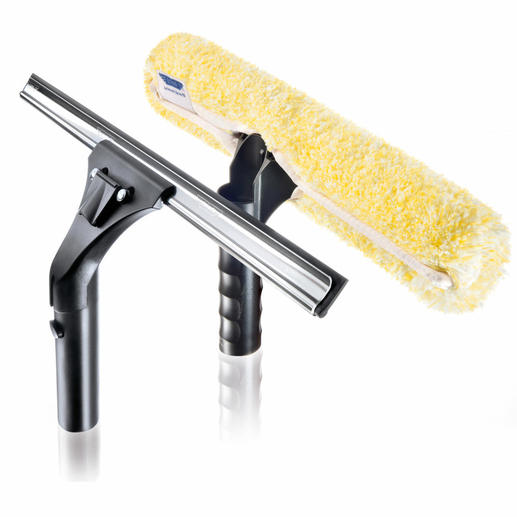 Be the first to review this product