05.04.2020 - We are still here for you. Standard delivery currently takes about about 5 to 7 working days. Mohr
It is a pleasure to feel this underwear every day.
Swiss underwear by Hanro – unsurpassed for more than 130 years.
From finest, seamlessly woven, mercerised cotton. Wonderfully soft and delicate. Always fit impeccably.
Hanro has been famous for the finest cotton jersey underwear in the world since 1884. These undergarments are very delicate and fresh, with a perfectly smooth fit and without uncomfortable seams.
It is a pleasure to feel this underwear every day.
The best long-staple cotton is so finely combed, spun until sheer and twined to a yarn with a degree of fineness of only 170/2 Nm. Mercerising gives this yarn its elegant sheen, which remains the same even after many washes. Ultra-fine weaving produces a single jersey that is extremely soft, light and stretchy and shimmers like silk. It is never visible under tight-fitting clothing, and keeps its shape almost indefinitely.
The shirt with V-neck trimmed with long-lasting elastic can also be worn as a classic T-shirt. Being seamless (no side seams), the jersey has a snug and perfectly smooth fit. The vest has a round neckline and is also seamless. The briefs have an attached elastic waistband and stretchy leg openings. They always fit perfectly without pinching or riding up. The trunks, with slim-fit legs and ultra-fine side seams are just like a second skin.

All pieces in classic white made of 100% cotton. Machine washable.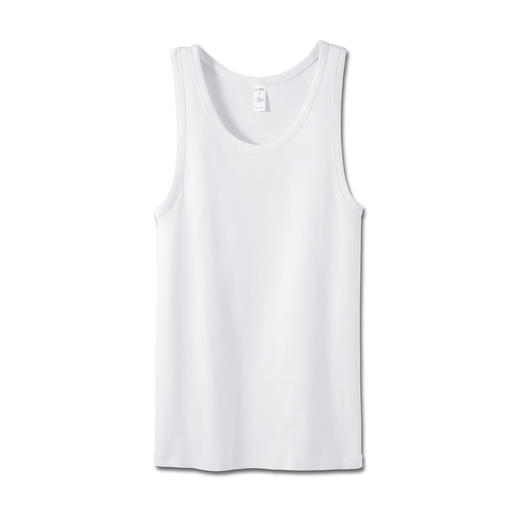 Be the first to review this product