04.04.2020 - We are still here for you. Standard delivery currently takes about about 5 to 7 working days. Mohr
Not all flannel is created equal.
The "Grandpa" Nightshirt by Derek Rose/London.
Snuggle up in nostalgic comfort that's super soft and warm. Made from prized brushed cotton flannel.
This nightshirt seems to be from another era; a time when the alarm clock crowed atop the dunghill and water was brought in from a well. These days it's extreme­ly hard to find a snugly soft, warm flannel nightshirt. But Derek Rose in England – the land of draughty castles – still makes them.
Not all flannel is created equal.
This flannel is an especially dense weave and gently brushed. The result is a nightshirt that is very hardwearing, does not pill, and lasts ages longer than conventional heavily-brushed flannels which are loosely woven and only feign cosy thickness. Pure comfort that's styled with lovely old-fashioned charm: Long and wide so you can comfortably tuck your legs up inside. A small stand-up collar keeps draughts away from your neck. The long button panel makes it easy to slip on. Absolutely authentic with its blue and white stripes woven in a herringbone pattern. The colour stays beautiful even after umpteen washes.

Comfortably wide cut. Colour: Blue/white. 100% cotton. Machine washable.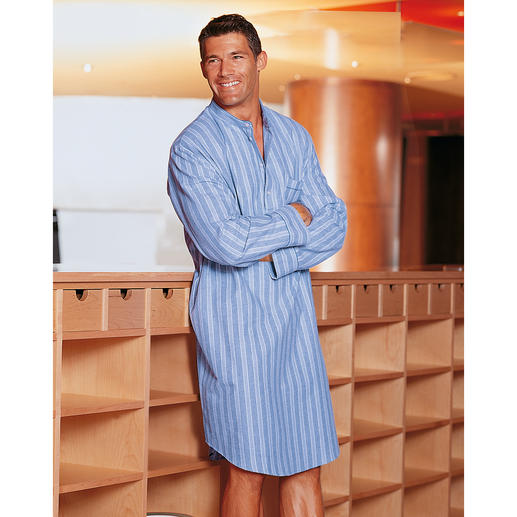 Be the first to review this product