Five-Pocket Winter Cotton Trousers
Five-Pocket Winter Cotton Trousers
Warm without lining. Wind repellent without the use of chemicals.
This can only mean a pair of densely woven five-pocket trousers by Nik Boll.
The woven fabric of this classic five-pocket design has a yarn density that is 30% higher than standard cotton trousers. This density of the fabric makes it naturally warming and wind-repellent – without the uses of any chemicals. That's why it does not need a bulky lining. This is a real advantage, as it creates a fashionably slim silhouette.
Wonderfully comfortable despite the high fabric density.
The fabric consists of 94% cotton and 6% elastane in warp and weft: This means two yarns and the elastane yarn are twisted together before weaving. This makes the trousers pleasantly stretchy. The material gives way without bulging or pinching. After washing and drying, it is usually sufficient to just smooth them out with your hand, and your winter trousers are instantly ready to be worn again. With zip fastener and waistband button.

Five-pocket style with straight leg. Inseam in size 34″R: 83.5cm (32.9″). Leg width at hem: 38.5cm (15.2″). 94% cotton, 6% elastane. Contains non-textile parts of animal origin (leather label). Machine washable.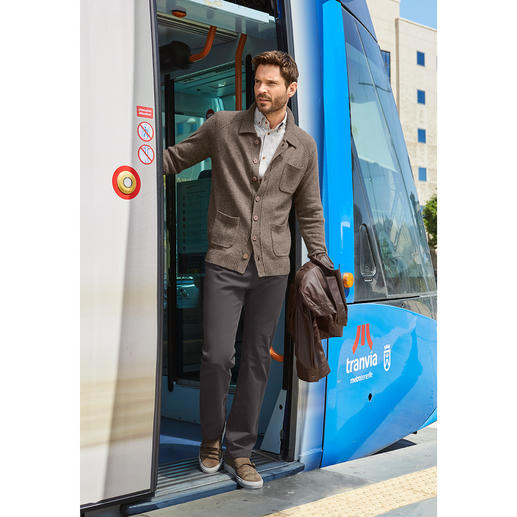 Be the first to review this product