One layer instead of two.
Discreet zipped leg pockets.
One layer instead of two.
Discreet zipped leg pockets.
The clean-cut thermal jeans without outdoor character.
With warming Thermolite® fibre and soft flannel inside.
Thermal trousers are the perfect clothes for the colder months of the year. However, they are usually bulky and look excessively functional. These have a fashionable slim fit and look indistinguishable from normal jeans. Clean-cut, in the latest fashionable dark blue raw denim.
One layer instead of two.
The soft weave of the underside is made of microfine hollow fibres (Thermolite®). They trap air, like the hairs of a polar bear's fur – and so they insulate by retaining your body heat. Any moisture that may arise is released to the fabric surface where it quickly evaporates. This way, you can maintain a comfortably dry climate – in the freezing cold, but also in overheated rooms.
Discreet zipped leg pockets.
The stylish alternative to the sporty cargo pockets of many thermal trousers. Almost invisibly incorporated into the side seams they also offer ventilation thanks to the mesh lining.

Slim 5-pocket style. Inseam in W32/L34: 87cm (34.3″). Leg width at hem: 34cm (13.4″). Colour: Dark blue. 69% cotton, 30% polyester, 1% elastane (Lycra®). Machine washable.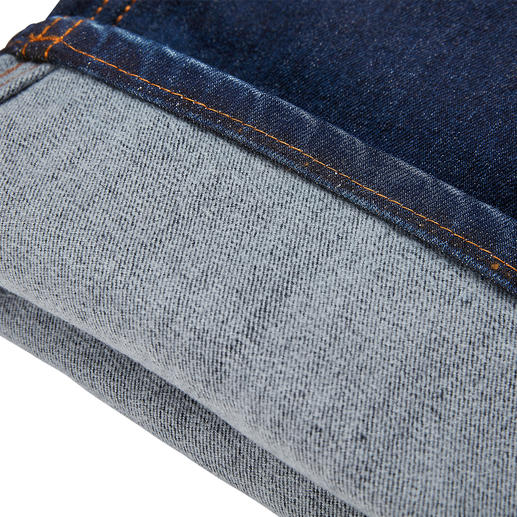 Be the first to review this product