Only 1% of the world's denim comes from Japan. But true denim lovers find it highly desirable.
Deep yarn-dyed dark raw denim with a genuine selvedge edge. A rarity by Kuroki Mills.
These jeans can't be compared to conventional jeans: Selvedge jeans made of dark blue raw denim are created by using elaborate, particularly rich and consistent yarn dyeing techniques. Without them, the characteristic white-red-white selvedges are lost – and that would be a pity as the edges of the outer seam, shown when rolled up, identify the fabric as being selvedge denim and thus establish the special origin of the jeans.
In Japan, the necessary time is still taken to make specialties such as selvedge denim.
As in the 1950s, the rare fabric is still made on slow movement selvedge looms. These return the weft threads to the sides instead of just cutting them off, which results in 80cm (31.5") wide rolls of denim instead of the usual 150cm (59.1") wide rolls and thus don't meet the requirements for today's mass production.
Authentically raw and very hard-wearing.
When you first put them on, the 13 oz denim may still feel unusually stiff. But with each wear, the jeans become more comfortable – and every time you wash them, they become softer.
Selvedge lovers would like to note the following things:
With yarn-dyed raw denim, tiny colour pigments may remain on the surface causing staining. Always wash your new jeans separately and inside-out. Do not sit on light-coloured upholstered furniture and at first, adjust the rest of your clothes to the colour of your jeans.

5-pocket style with extra deep back pockets and straight leg. Inseam in size 34": 90cm (35.4"), leg width at hem: 34cm (13.4"). 100% cotton. Machine washable.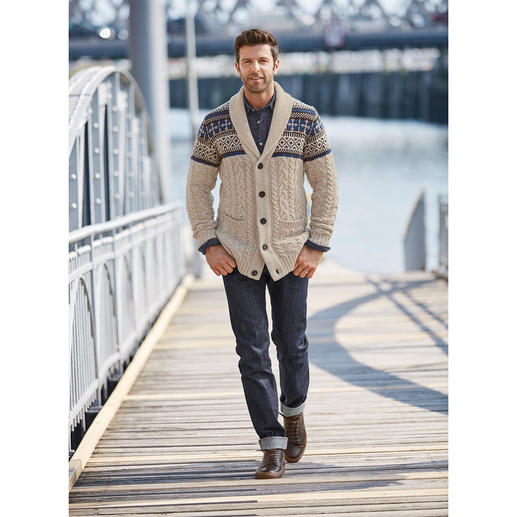 These on-trend pieces go well with 'Japanese Selvedge Jeans':
Be the first to review this product