Ergonomic fit. Stretch denim. Dynamic waistband.
Ergonomic fit. Stretch denim. Dynamic waistband.
They really do exist: Perfectly fitting jeans for almost every type of figure.
By Germany's trousers specialist Eurex by Brax.
Jeans can be seen almost every­where – but really perfectly fitting jeans are a rare find. The experts from the Herforder trouser specialist, Eurex by Brax, have now developed an ingenious cut suitable for both slim and fuller figures.
Ergonomic fit. Stretch denim. Dynamic waistband.
The slightly lower, sewn-on waistband provides an invisible stretch allowance at the front. This prevents the trousers from slipping which causes creases. Thanks to the low rise waist, these jeans ensure a comfortable fit under the tummy. The anti-slip interior band (also called a shirt stay) keeps your shirt safely tucked in your trousers.

Inseam in size 34"R: 83cm (32.7"). Leg width at hem: 42cm (16.5"). Colour: Dark indigo. Five pockets. 97% cotton, 3% elastane. Contains non-textile parts of animal origin (leather label). Machine washable.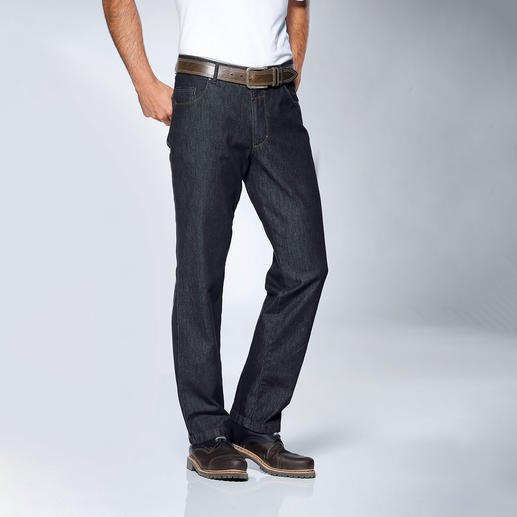 By Robert L. on 01.08.2017
Fitting but smart.
These fit closer than I would normally wear, but they are a very smart pair of jeans. I also am not keen on the lower hip fitting but again after wearing them for a while don't notice that aspect I'm sure with regular wear they will ease slightly. I will wait until then before I consider another pair. Some time ago I purchased 2 x pair of comfort fit jeans and they are now confined to dog walking, gardening and general work around the house. These Brax will only be worn on visits where their smartness will be noticed and appreciated.