04.04.2020 - We are still here for you. Standard delivery currently takes about about 5 to 7 working days. Mohr
Infinitely versatile for business and leisure.
Infinitely versatile for business and leisure.
Seidra in Austria weaves airy linen that's even suitable for formal business trousers.
The ideal summer trousers – even when it's 30°C in the shade.
The linen specialist Seidra in Austria weaves the ideal fabric for smart clothes for hot weather. The delicate, hand-selected fibres are woven as chambray − with different-coloured weft and warp threads. This way, the linen gets a chic and lively sheen, plus it's much more resilient to dirt than conventionally woven linen.
Infinitely versatile for business and leisure.
Cut in an on-trend, narrow silhouette, these airy summer trousers are flattering and very comfortable. Practical slash pockets in the side seam. A small coin pocket at the front under the waistband. Buttoned back pockets. These trousers go perfectly with polo shirts, T-shirts and unbuttoned shirts. They're just right for official appointments, for which a jacket, shirt and tie are required, even when it's hot. The trousers are already "délavé", meaning they're pre-washed and therefore won't shrink anymore.

Casual and comfortable style. Inseam in size 34"R: 83cm (32.7"). Leg width at hem: 40cm (15.7"). 100% linen. Machine washable. Exclusive to Fashion Classics.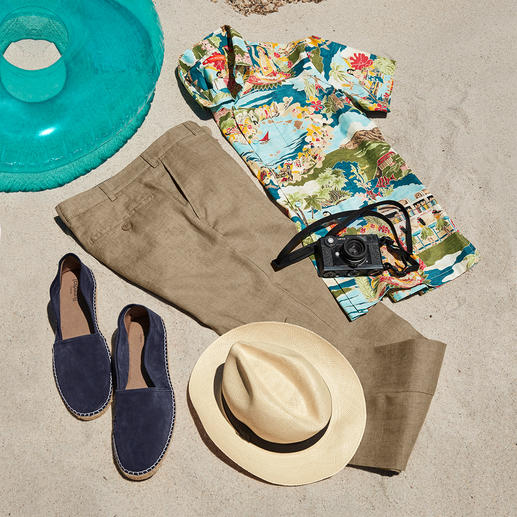 These on-trend pieces go well with 'Seidra Linen Trousers':
Be the first to review this product