Goodbye but not Farewell ...
As a result of the Brexit, Pro-Idee is temporarily closing its UK online shop (www.proidee.co.uk) until further notice. We apologise for the inconvenience. Everything you might want to know about the situation is to be found in the FAQs below. It will surely help you navigate through this change and answer the most frequent questions you might ask yourself regarding ordering, shipping, delivering and many other areas which are impacted by the closing of our online shop. As we remain committed to curating a unique selection of high quality products, we invite you to continue shopping in our German, French, Dutch, Austrian or Swiss online shop if you wish to have your order delivered to an address outside the UK. We thank you for the continuous support throughout the years and we hope to be able to reopen our UK online shop in the near future.
Hoal Linen Business Trousers
Business linen creases less.
Hoal Linen Business Trousers
Business linen creases less.
This colour goes with everything: Oatmeal.
Business linen creases less.
OK, so linen creases – and this will always be the case. By its pure nature it is cool, moisture absorbing, and also a bit stretchy. Purists attach much importance to the typical creasing of linen – but in everyday life it is not usually something to be desired. But here, with the clever addition of cotton, you can enjoy the best of both worlds: A fabric with the cool feel and the fine look of linen, which is softly flowing, crease-free and easy to iron.
This colour goes with everything: Oatmeal.
Oatmeal is a light beige, slightly brown-mottled, shade that goes with everything in your wardrobe. Whether you wear it with black, neutrals, green or shades of brown, a blue blazer, silk tweed sports jacket, casual linen shirt, cable knit jumper or cardigan: Oatmeal is one of the most versatile colours ever.

Comfortable, timelessly classic flat-front style with front pockets and two buttoned back pockets. Colour: Oatmeal. Inseam in size 34″R: 83cm (33″). Leg width at hem: 40cm (16″). 56% linen, 41% cotton, 3% elastane. Machine washable. By HOAL.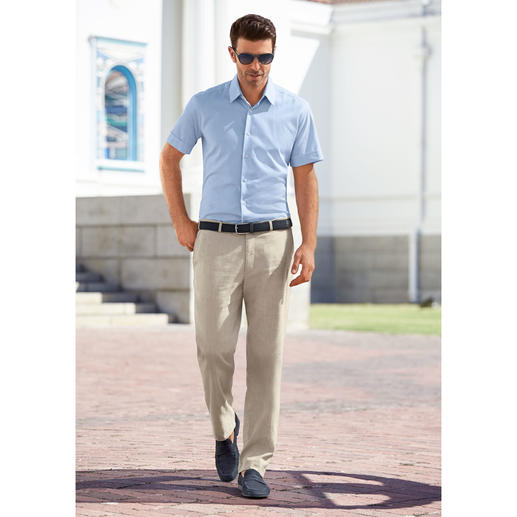 These on-trend pieces go well with 'Hoal Linen Business Trousers':
Be the first to review this product