Goodbye but not Farewell ...
As a result of the Brexit, Pro-Idee is temporarily closing its UK online shop (www.proidee.co.uk) until further notice. We apologise for the inconvenience. Everything you might want to know about the situation is to be found in the FAQs below. It will surely help you navigate through this change and answer the most frequent questions you might ask yourself regarding ordering, shipping, delivering and many other areas which are impacted by the closing of our online shop. As we remain committed to curating a unique selection of high quality products, we invite you to continue shopping in our German, French, Dutch, Austrian or Swiss online shop if you wish to have your order delivered to an address outside the UK. We thank you for the continuous support throughout the years and we hope to be able to reopen our UK online shop in the near future.
Slim Swimming Shorts
Slim, stylish and quick-drying.
Slim Swimming Shorts
Slim, stylish and quick-drying.
Slim, stylish and quick-drying.
Swimming shorts for the sporty gentleman.
Exactly the right mix of materials makes these swimming shorts breathable, quick-drying and stretchy. The woven fabric does not become inflated during swimming. Therefore you will glide more easily through the water. Moreover, these swimming shorts look much more sophisticated than tight swimming briefs – so you will always be suitably dressed on the beach. The white stripes on the sides cleverly make you look taller. Elasticated waistband with drawstring, small mesh pocket on the inside.

Comfortable, fitted cut. Colour: Black/white. 80% polyamide, 20% elastane. Machine washable.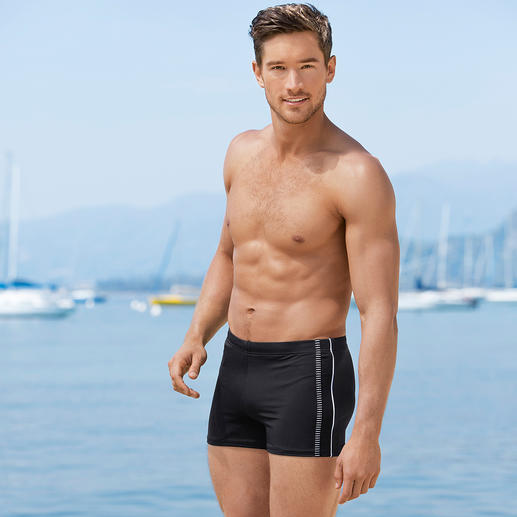 Be the first to review this product