Crocs™ LiteRide™ Men's Pool Shoes
Crocs™ LiteRide™ Men's Pool Shoes
Very good Crocs™ have become even better Crocs™.
The new LiteRide™ collection is 40% softer, 25% lighter, etc.
Crocs™ have surpassed themselves with the innovative LiteRide™ range. Because behind almost every detail of these pool shoes is a new innovation.
The soles of the LiteRide™ models are 40% softer and 25% lighter than previous Crocs™ soles. As a result, the impact energy is absorbed even better and the fatigue during walking is reduced which promotes regeneration and relaxation.
The outsole made of LiteRide™ foam is also extremely flexible and soft. Your body weight will be distributed evenly on the stepping surface.
The footbed made of LiteRide™ foam adapts ergonomically to any foot shape. It is made of dense resin that prevents the ingress of dirt. The material is easy to clean, completely odourless and quick to dry again.
The vamp made of Matlite™ foam is also resistant to stains and scratches. The matte finish has a visually slimming effect on your feet.

Colour: Navy/blue. Material: 100% synthetic.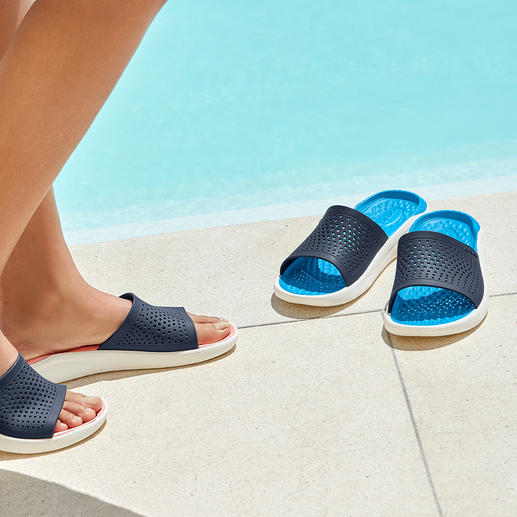 Be the first to review this product