Mephisto Double-stitched Lace-up Shoes
Mephisto Double-stitched Lace-up Shoes
Traditionally double-stitched. Water repellent. Unbelievably robust. And very rare.
Calfskin lace-up shoes by the French comfort shoe specialist Mephisto.
The double-stitched method is probably the most durable, but also the most expensive (and therefore the rarest) way to make shoes. In using this technique, the leather upper and sole are joined together with two waterproof sealed seams. Thanks to the outermost welt, with clearly visible double seams, these shoes look a little more substantial than shoes with simple welted seams. The 2.2-2.4mm thick calfskin leather can also withstand the occasional rain shower.
With shock-absorber to protect the joints, intervertebral discs and spine.
The extra-soft, permanently elastic Soft-Air midsole makes you feel like you're walking on the mossy floor of a forest. The rubber outer sole adds a spring to your step and also insulates against the cold ground.
Skilfully made by hand.
The brand Mephisto was founded in Sarrebourg in 1965 and has three times been awarded the title "Best Footwear Brand in France". Black: Entirely made of smooth leather. Dark brown: Made of grained leather, with suede vamp, contrasting seams and light brown welt.

2-eyelet lacing. Upper, lining and insole: Leather. Good-grip profiled outsole made of rubber.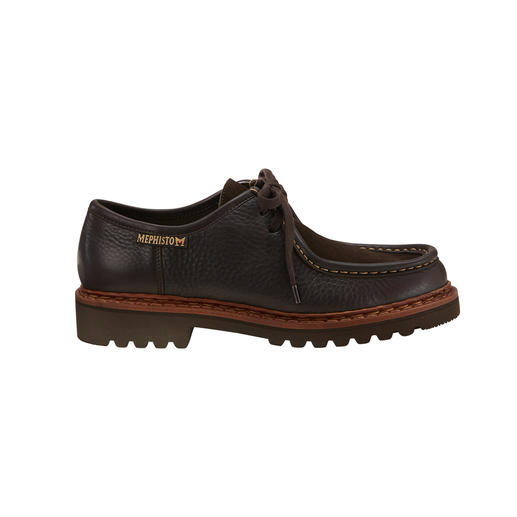 Be the first to review this product